Flood - We deserved to lose
Toby Flood admits England deserved to be eliminated after failing to take responsibility against France.
Last Updated: 10/10/11 8:17am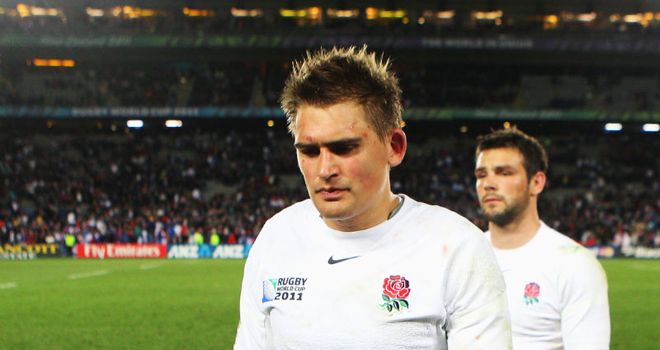 Toby Flood has admitted that England deserved to be knocked out of the World Cup after failing to take responsibility in their quarter-final against France.
An awful start saw Martin Johnson's side fall to a 16-0 deficit in the first-half and Les Bleus hung on after the break to book a semi-final showdown with Wales.
In contrast, Flood and his team-mates have started to return home and the Leicester player made no excuses for his country's early exit from the tournament.
"It's just shocking that we are going home but we don't deserve to be here because ultimately we didn't stand up to be accountable," he said.
"We can't hide behind a facade - we are incredibly frustrated and disappointed. It's important we realise that, in these games, we have to engage our brains and engage our bodies.
Hurting
"No-one will know how much it hurts to lose in a quarter-final and not be here for the rest of the tournament until you feel that pain, until you feel that overriding feeling of disappointment.
"Guys are going to feel that now, it's going to hurt, the screw is going to be turned pretty harshly.
"We feel like we've not only let ourselves down but our travelling supporters too and the fans back home too. We can't hide away from that.
"Sure, we are professional players and we take our losses and deal with them, but this is something very different because when you lose these games it stays with you for longer."
Flood was a key part of England's back-to-back victories over Australia and victory in the Six Nations before the World Cup and had stated before the tournament that a semi-final appearance was the minimum requirement.
He added: "The most difficult thing is that we worked so hard in pre-season with the golden chalice of a World Cup to aim for."
"Guys were literally throwing up on the field, working that hard to achieve something, so for it all to be washed away in 80 minutes - I hope that really drives us on as a team.
"We have fallen short - we haven't even made the last two weeks of the tournament. You come here aiming to win it.
"When we saw the draw we thought: 'Yes, we've beaten France this year and yes, we've beaten Wales this year' so there was a chance for us.
"And we have fallen short because we haven't achieved the goals we set out to achieve. It's difficult to put into words how hard you've worked and how disappointing it is not to achieve your goals.
"World Cups only come round every four years. They are something very special. To be involved in the final last time was a great occasion which meant so much to a lot of people."