Hook hails training camp
James Hook insists two punishing training camps in Poland boosted Wales' World Cup campaign.
Last Updated: 14/10/11 1:12pm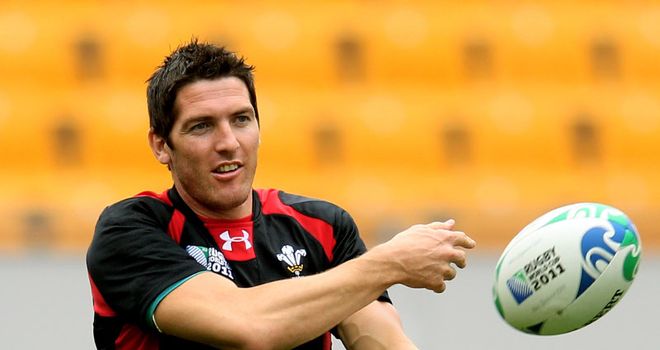 James Hook insists two punishing training camps at the former Polish Olympic training village of Spala boosted Wales' World Cup campaign.
"We have built a club environment rather than an international one," said Hook, who will play club rugby in France with Perpignan post-World Cup.
"It is difficult when you go from your region to an international, but from the Poland trips right the way through we have been together and built the club environment which has worked for us.
"Poland built a base for us. There were some tough days, but when you look back it was definitely all worth it.
"Training four or five times a day was not pleasant at the time, but when you look back it has paid dividends.
"I found it tough physically. It was tiring and taxing. We had not done it before, but everyone came through it for the better."
Good run
Wales will face France on Saturtday having won seven of their last nine games against all opponents, while young talent such as skipper Sam Warburton, wing George North and number eight Toby Faletau will leave for home later this month after taking the tournament by storm.
They might also board the plane as world champions with the Webb Ellis Trophy for company.
"The talent we have in the squad has never been doubted," Hook added. "It was errors in games that cost us by small margins, but the momentum of winning games and developing confidence has given us that bit more belief and we realise now that we can beat these big teams.
"The young boys have surprised a few of us in the way that they have come through, showing a maturity and putting in performances.
"The way the likes of George North and Sam Warburton are stepping up goes without saying.
"They are turning into world-class players very quickly, much earlier than most professionals, and I am sure they will continue that through their careers.
"There has not been a lot in our recent games against France. Little errors have cost us.
"If we continue what we have been doing in the tournament so far and cut them out, I am sure we can get the result we want."