Halfpenny hails Warburton
Leigh Halfpenny has paid a glowing tribute to Wales' World Cup captain marvel Sam Warburton.
Last Updated: 13/10/11 10:41pm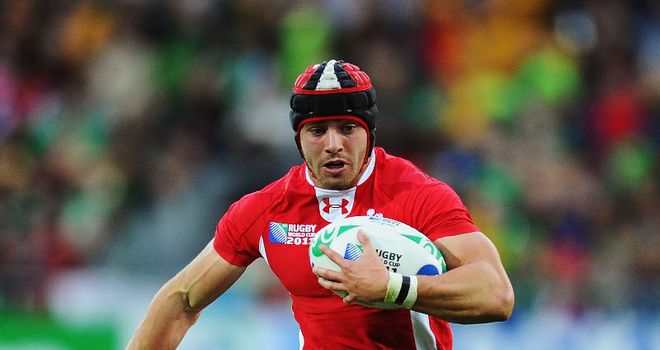 Leigh Halfpenny has paid a glowing tribute to Wales' World Cup captain marvel Sam Warburton ahead of the biggest game in the country's rugby history.
Full-back Halfpenny understands Warburton's understated - but inspired - style of leadership more than most.
He grew up with his Cardiff Blues colleague through international age-grade rugby, almost being reduced to tears on one occasion by Warburton's pre-match talk.
Just 10 days after celebrating his 23rd birthday, Warburton will lead Wales into a World Cup semi-final against France at Eden Park.
And Halfpenny believes there could hardly be a better man for the occasion.
Inspiring
"I've been captained by Sam all through the age groups, and he is no different now to when he was then," Halfpenny said.
"He is not a man of many words, but when he does speak it means a lot and it is very inspiring. He just leads from the front, he lets his actions on the field do the talking.
"He is really taking us forward. He speaks very passionately, you know it is coming from the heart, his words of inspiration.
"It is pretty short and sharp just before the game, just those small words that get us up for it. It has worked for me the whole time I have been playing alongside Sam.
"There was a time with Wales Under 18s. We played Scotland, and we had a team meeting the night before the game. I was nearly in tears with what he said. We won the game."
Halfpenny excelled when Wales defeated quarter-final opponents Ireland in Wellington, relishing the full-back role he had long coveted.
Bombardment
And he is braced for Les Bleus' anticipated aerial bombardment, admitting: "I imagine it will be a busy day at the office on Saturday in terms of owning the sky, as I like to put it.
"There are a lot of aerial battles when you play at full-back. I have been used to it for most of my career, and I have always loved that part of the game, getting up for the high ball.
"Putting that ball up in the air is a massive weapon that teams use.
"If that is what happens this weekend, we have got to execute every single one as well as we can and make sure we are mistake-free."