Charteris 'devastated'
Wales are 'devastated' following their World Cup semi-final defeat, according to lock Luke Charteris.
Last Updated: 15/10/11 4:11pm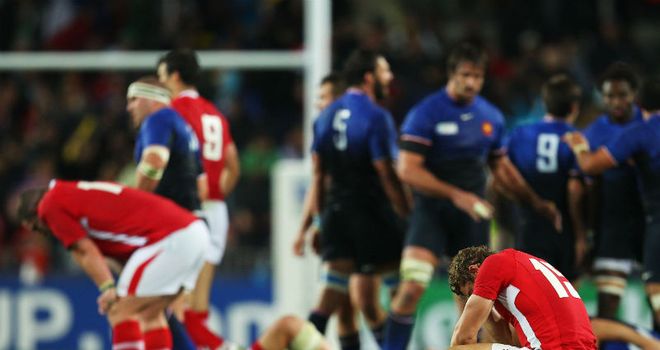 Wales are 'devastated' following their World Cup semi-final defeat at Eden Park on Saturday, according to lock Luke Charteris.
Wales' best run in the tournament since 1987 was brought to an end by an ordinary looking France who ground out a 9-8 victory to secure a place in the final.
Warren Gatland's men were forced to play for much of the game with 14 men after captain Sam Warburton was controversially sent off for a dangerous tackle on France wing Vincent Clerc.
But despite being a man down after less than 20 minutes, Wales came agonisingly close to victory and Charteris said it had been 'heartbreaking' not to win the game.
"We came to the World Cup honestly believing that we could win it," he said. "It's not to be now, and the boys are devastated. It's heartbreaking for Sam and for the whole team.
"No one is blaming Sam at all. He has been outstanding all tournament. It's not like it was a reckless or a stupid thing. He put a good tackle in. How it was a sending off I've got no idea.
Smart
"The boys showed great heart and effort to not let a team of France's attacking powers score a try when down to 14 men."
Trailing by a single point, Wales hammered at the French just outside their 22 as they looked for a drop goal or penalty opportunity in the dying seconds.
But Les Bleus' defence held firm to deny the Welsh and after 27 phases they finally regained possession to boot the ball into touch and secure victory by the narrowest of margins.
"I was thinking of the drop goal. I just wanted us to get a little bit closer," explained fly-half Stephen Jones, who replaced James Hook early in the second half.
"France were smart. They decided they weren't going to flood the contact area, they were going to flood the front-line. One guy takes the tackle and everybody else wouldn't contest the ball.
"They just waited for us to relaunch another attack, and of course, it was very hard for us to get going. They knew what we were trying to do, and they nullified our threat."
Frustrating
Wales will now face Australia or New Zealand in the third place play-off match next Friday, but centre Jonathan Davies can't help feeling his side had missed a golden opportunity.
"We caused France more trouble than they caused us," he said. "It's just frustrating we didn't get the result we deserved.
"We were the better side, but in the end we didn't get the result. Maybe it was a lack of patience, because towards the end we got a bit ragged and lost structure.
"Sam spoke to us after the game and told us to hold our heads up. He had asked us to be brave at the start of the game and I think we were.
"Before the tournament, nobody gave us a shot of coming third in the World Cup, so we will definitely be up for it on Friday."