Phillips hits out at France
Wales scrum-half Mike Phillips predicts France will be 'blown away' in the World Cup final.
Last Updated: 15/10/11 5:52pm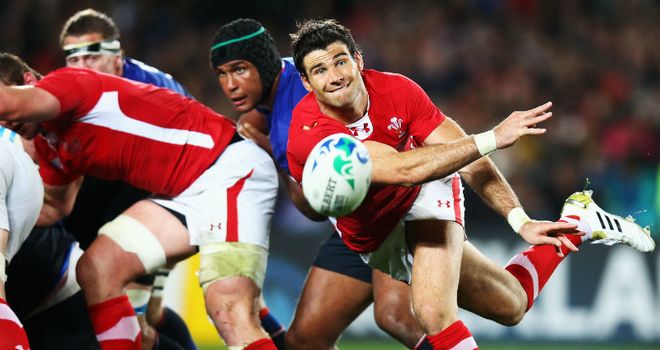 Mike Phillips launched a withering attack on World Cup finalists France after Wales saw their dream of global domination destroyed in controversial fashion at Eden Park.
Wales suffered an agonising 9-8 semi-final defeat against Les Bleus, playing more than an hour of the game with 14 men after their captain Sam Warburton was sent off.
Flanker Warburton, one of the tournament's outstanding players, received a red card from Irish referee Alain Rolland following a dangerous tackle on France wing Vincent Clerc.
He became the first Wales player to be sent off in a Test match since 1995.
Wales had already lost prop Adam Jones through injury when Warburton was dismissed - and try-scorer Phillips vented his anger over an incident that undermined the contest.
Warburton will now face a disciplinary hearing, Wales must somehow lift themselves for the third place play-off match next Friday, while France can look forward to facing New Zealand or Australia in the final a week on Sunday.
Wrong
"I thought France were really poor, and I thought it was the wrong decision by the referee to send Sam off," said Phillips, who will join leading French club Bayonne after the tournament.
"It was the wrong decision completely. He is a young kid, he is the captain of his country, it is the semi-final of the World Cup.
"He is not a dirty player. He's a big hitter and that is what happens. It was a yellow card and that's it. It was just the wrong decision.
"Put things in context. It is not fair. It looked much worse than what it was.
"It was early on in the game, it is a massive game, you are flying into each other. You put big hits in and people go up in the air - that's the way it is.
"France played up on it. It was showmanship, and they did their job. It is just disappointing."
Phillips continued: "Sam is not a dangerous player. He has shown the world he is a great flanker and he is a player that deserves to be in a World Cup final.
"He is one of the best sevens in the world, and there are boys in our team who deserve to be in the final.
Simple
"France were poor and they are going to get blown away in the final. It is as simple as that.
"There was a lot against us but we still had the opportunities to have won, right until the end.
"We worked very hard but it wasn't our day. We had a real chance of reaching the final but it's difficult to say where we lost this match and the game with South Africa.
"We are a very good team and we deserve to be in the final, without a shadow of a doubt.
"We tried so hard to get to the final, and the French didn't do anything constructive on the pitch. All they did was look for penalties."