Mas: Scrum dominance is key
Nicolas Mas says France's pack must match New Zealand's if they are to cause a World Cup upset.
Last Updated: 22/10/11 9:58am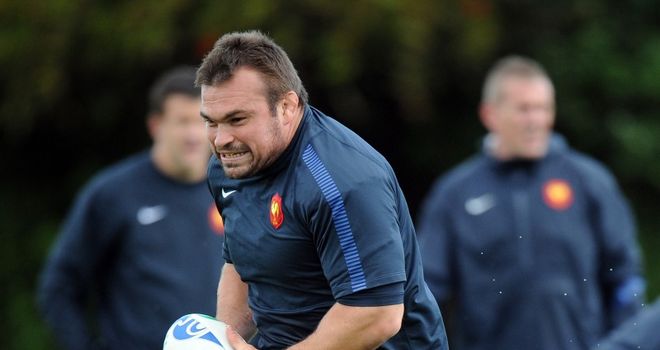 Nicolas Mas says France must be equal to the fearsome challenge posed by New Zealand's pack if they are to win Sunday's World Cup final at Eden Park.
The tighthead prop is in no doubt that meeting the All Blacks' scrum threat head on will be key towards Les Bleus causing an upset in Auckland.
With the hosts unbeaten so far - and having already comfortably beaten France - many pundits believe New Zealand are red-hot favourites for a second World Cup success.
France, though, can recount recent World Cup history for motivation, having knocked the All Blacks out of the 1999 and 2007 competitions.
"New Zealand have great impact at the scrum and you have to meet them," Mas said.
"We need to be able to meet them in the scrum if we are going to be able to play. We have the whole match to do this.
"As usual in their plays, it is the players managing to set up the ball and the players doing their job, and we have noticed since the beginning of the competition that the All Blacks produce great performances up front.
"Their performance in the forwards set up the semi-final win against Australia."
Strong
France struggled in the scrums when New Zealand beat them 37-17 last month, and Mas added: "They have a strong scrum - they put a lot of time and effort into it.
"They are used to coming in strong and coming in fast. The difficulty in playing against them is meeting their speed.
"They do not give you much time to move them, and then they free the ball up very quickly.
"Two teams want to win, and they will do everything in their power to win - that is the aggression and the passion. There will be a huge amount of passion involved."
France defence coach Dave Ellis, meanwhile, is optimistic his players can exploit what he sees as weaknesses in the New Zealand defence.
"The All Blacks have different defensive systems, and there are more weaknesses than we found in the Welsh system and also in the Australian system," Ellis said.
"We feel there are certain areas of their defence we can exploit.
"We have also mentioned the (2007) quarter-final in Cardiff (against the All Blacks) and the French defence. They had 47 phases of play at one point, and we never gave them the lead.
"So the French team is quite capable of doing it. They have done it on numerous occasions against different countries.
"It will be the number one factor in whether we can withstand the All Blacks on Sunday."