Cruden still smiling
New Zealand's Aaron Cruden said winning the World Cup more than compensated for a knee injury.
Last Updated: 24/10/11 9:08am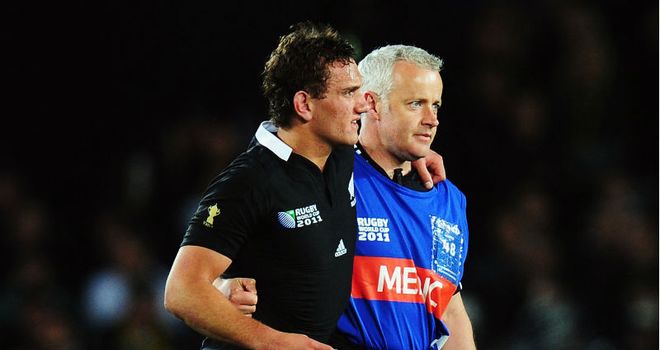 New Zealand fly-half Aaron Cruden insisted the thrill of winning the World Cup still compensated for the potentially serious knee injury he picked up against France.
The 22-year-old hyper-extended his right knee in the 34th minute of Sunday's 8-7 victory over France at Eden Park and was replaced by Stephen Donald as playmaker.
"I don't think words can really describe it at this point but I'm just very honoured and humbled to be given this opportunity and be a part of what is now a winning World Cup team here on home soil," Cruden said.
Cruden was drafted into the All Blacks' squad three weeks ago after Dan Carter suffered a tournament-ending groin injury.
He was then thrust into the starting role when back-up Colin Slade also sustained a serious groin injury.
Cruden said of the damage to his right knee: "I'm not too sure about it at this point. The doc has looked at the footage and reckons it's a hyper-extension, but hopefully I'm a quick healer and I'll be back soon.
"I heard a bit of a snap and I sort of knew that probably wasn't a good thing, but I just asked the doc what she thought and she said 'have a bit of a walk around and see how you go'.
"It was the World Cup final so I didn't really want to come off but unfortunately the knee gave way and I had to come off.
"But I had all the faith in Stephen and all the boys knew he'd step up and do the job and I thought he was outstanding.
"I was pretty gutted to be sitting on the bench but I got right behind the team and I knew the boys were out there giving it everything.
"Obviously I wished I was able to be out there with them but it wasn't to be.
"The boys threw everything at it and left it all out on the field and it's outstanding to get the result."
Bad run
Cruden was at a loss to account for the run of bad luck for Kiwi playmakers throughout the competiting, adding: "It has been a bit of a bad run for the first-fives here but to get a result like that on home soil was just outstanding."
Donald was called back from a fishing holiday to join the All Blacks' squad three weeks ago as back up for Cruden, and took his opportunity with aplomb.
The 27-year-old, who had previously been the All Blacks' fourth choice at fly half, kicked a second-half penalty that proved the difference between the teams.
Coach Graham Henry said Donald "probably deserved" some of the intense criticism he has received in the past but merited a fairytale finish before heading off to join Bath.
"He was tremendous," Henry said. "He is a great team person and very popular among the group.
"He is very professional and has had some stick in the past and probably deserved it.
"It was good he came through to kick the penalty and play some good footy in the second half."
Bottom of the ladder
And the Waikato stalwart was a hero in the eyes of inside centre Ma'a Nonu as well.
"It's funny how the world works," Nonu said. "He was at the bottom of the ladder, lots of haters getting him down, but he came through, kicked that goal and won us the World Cup."
Now Donald feels he can return for another crack at the All Blacks after his two-year deal in Bath runs out.
"I'd love to come back at some stage," he added. "We'll cross that bridge when we come to it, but for now I'm just soaking this up."