Howley hails 'priceless asset'
Assistant coach Rob Howley says Wales will be losing a "priceless asset" in Shane Williams.
Last Updated: 02/12/11 3:06pm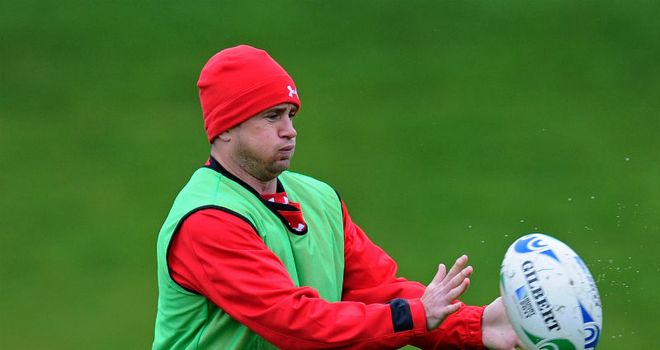 Assistant coach Rob Howley says Wales will be losing a "priceless asset" when Shane Williams brings his Test career to a close against Australia on Saturday.
The James Bevan Trophy clash at the Millennium Stadium will be the Ospreys' wing's 87th and final appearance for his country, where he will look to add to his record tally of 57 tries and help Wales claim a rare southern hemisphere scalp.
Praise for the 34-year-old's achievements have come from all over the rugby globe, while the national set-up paid him their own unique tribute by holding a 'Shane Williams day' at their training base earlier in the week.
And Howley believes the arch-finisher will go down as one of the finest players ever to play the 15-man code.
Howley said: "The players who have played with him over the last 11 years have been fortunate to play with one of the greatest players to play rugby union.
"He is not 6ft 4in or 15 stone but Shane has always found a way to create havoc in opposition defences and we have all been fortunate to play with him, and I am sure he is held in the highest regard by people who have played with him.
"In terms of the tries he has scored, the tries against South Africa in South Africa and against Scotland here (in 2008), you would not believe any player had the right to score those tries but Shane found a way and hopefully he can find a way on Saturday because he has been a priceless asset to Welsh rugby."
Legacy
And Howley believes the work that Williams has done with younger members of the squad such as George North and Leigh Halfpenny means he will leave a rich legacy within the national side.
"His ability, communication and leadership over the last 12 months has been very impressive, and when George North and Leigh Halfpenny have come on the scene he has left a legacy of how to play the game," he said.
"George and Leigh have come in and that ability Shane has got rubs off on them. He is the ultimate professional, he is always willing to take back three and counter-attack sessions and his leadership has been to the fore. We have been fortunate to be part of a coaching team that has coached Shane Williams."
New Zealand's World Cup winning coach Graham Henry, who handed Williams his first Wales cap against France back in 2000, has been another to laud the 2008 IRB World Player of the Year.
Henry said: "He is a very special player, he's not the biggest man in the world but he's got unique skill. He creates and he finishes and he'll draw a pass and he's been the best player in the world one year according to the IRB."
Although Saturday's Test is set to be an emotional day as Welsh rugby bids farewell to one its brightest stars, Howley insists that the focus within the camp is fully on ending an encouraging year on a high.
Howley said: "It is Wales v Australia, we have had 'Shane Williams day' but it is Wales against Australia and we need to beat a southern hemisphere side and we want Shane to be a big part of that. He will be a huge asset for us on Saturday."