Williams targets dominance
World Cup winner Ali Williams has set his sights on building a New Zealand 'legacy' and has no retirement plans.
Last Updated: 09/12/11 8:37am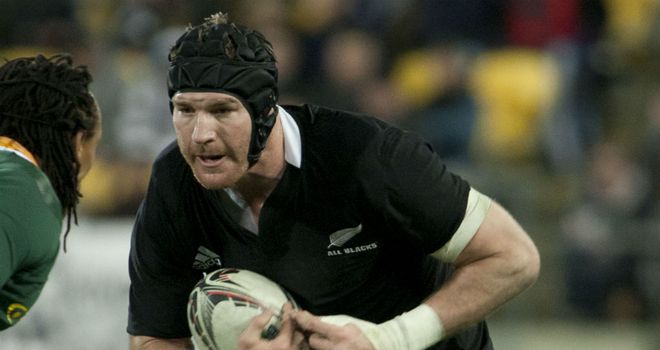 World Cup-winner Ali Williams is not thinking about retirement and has set his sights on building a New Zealand 'legacy' after ending the 24-year wait to be re-crowned the best team on the planet.
The 30-year-old lock was a part of the All Blacks' success on home soil in the autumn, with Graham Henry's side finally living up to a ranking as favourites to ultimately defeat France in the final in Auckland at the end of October.
It was New Zealand's first World Cup success since the inaugural competition in 1987 and, after several years of underachieving, it was consequently a source of huge celebration for the entire nation.
Williams, who played in all seven of the All Blacks' matches as they went unbeaten in the tournament, is now looking forward to building upon the victory, creating a generation of dominance and has no retirement plans.
He exclusively told skysports.com: "I really want to continue to play for the All Blacks for as long as I can.
Exciting
"At 30, I think I have a few years left in me to help grow the All Blacks legacy."
Williams was also pleased to bring success to New Zealand and the emotional significance was likely to have been increased given the devastating earthquakes which hit the country in 2011.
He said of the win: "Not only was it an exciting time for New Zealanders, but to lift the burden of not winning the World Cup for 24 years was a huge relief.
"To officially have something to show for being No.1 after all these years brought a lot of satisfaction and happiness.
"It was also good for our economy as we eat, sleep and drink rugby in this country."
Common goal
Williams also said: "The most memorable and enjoyable moment was when the whole squad came together on the podium after the final.
"Jumping around and celebrating with the team and with the whole country was very special and something I will never forget."
Henry, of course, left his position as coach after winning the World Cup and he has been linked with succeeding Martin Johnson as England boss.
Williams is well aware of his former manager's unquestionable ability and he thinks the 65-year-old is the best in the business.
"His influence was huge," said Williams of Henry. "His ability to listen to senior players and bring the team together as one is second to none.
"This means rather than bearing the burden alone, he ensures the team all take ownership of the common goal."
On behalf of adidas, All Blacks captain Richie McCaw along with team-mates Ali Williams, Israel Dagg and Sam Whitelock will be at Harrods in London next Tuesday (13th December) at 5pm for a fans' signing session. www.adidas.com