Hodgson praise for Farrell
Charlie Hodgson has hailed the maturity of Saracens team-mate Owen Farrell, who he says has the potential to play for England.
Last Updated: 22/12/11 4:07pm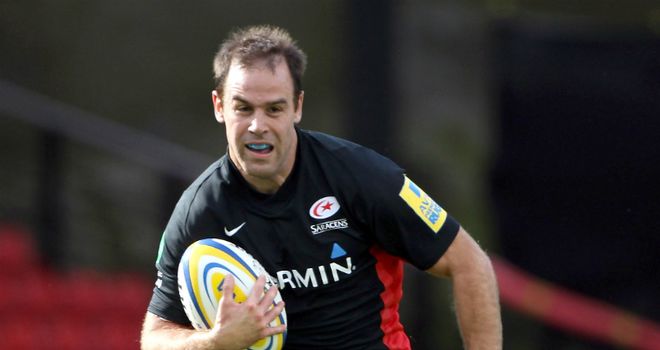 Charlie Hodgson has hailed the maturity of Saracens team-mate Owen Farrell, who he believes has the potential to play for England.
Many are predicting that both Hodgson and Farrell will be named in England's Six Nations squad on January 11, as interim boss Stuart Lancaster could make up to 17 changes from the World Cup.
The 20-year-old's father is former dual code international Andy Farrell, who is the Saracens head coach and a newly-appointed member of Lancaster's interim England management set-up.
Hodgson, a winner of 36 Test caps, was expecting to mentor the younger Farrell when he made the move from Sale in the summer, but says the youngster already has a comprehensive understanding of the game.
"When I came here (Saracens director of rugby) Mark McCall talked to me about passing on advice to him but the more time I have spent with him the more I have realised that he probably doesn't need to listen to me that much," Hodgson said.
"He is very mature and you can definitely see his dad in him. You can see the competitive streak in him straight away and he understands the game very well.
"He is not afraid to stand up and say what he thinks. He likes to take control of things, he is very good at feeding information to me during game time.
"He has definitely got the potential to play for England. He doesn't seem to be fazed by anything and seems to be in control of everything he is doing."
Position
Farrell played at fly-half during Saracens' Aviva Premiership title-winning campaign last season and it is set to be his long-term position.
However, Saracens have moved him into the centres this season with great success, partly to accommodate Hodgson's arrival at the club but also to aid his own development.
Hodgson added: "He has built on massively from what he achieved last year, coming in halfway through the season and winning the championship.
"Playing at centre gives him that bit more time on the ball, he has got the bigger picture of seeing what goes on and he has not always got that chaos in front of him playing at 10.
"Playing in any other position you get to appreciate your own position as well. He's playing very well at the minute, he's kicking his goals and doing everything that is required of him.
"You have to have a good balance in the midfield to not only be attacking threats individually but to be passing threats as well."
Having missed two World Cups through injury, Hodgson could not force his way into England's 30-man squad for this year's tournament in New Zealand but could now be named as Tony Flood's back-up for the Six Nations.
"I am not the kind of person who would retire myself from international rugby. If someone wants to pick me then brilliant," Hodgson said.