Ford tells Scotland to earn respect
Ross Ford has urged Scotland to gain England's respect byoutplaying them in the Calcutta Cup.
Last Updated: 25/01/12 4:03pm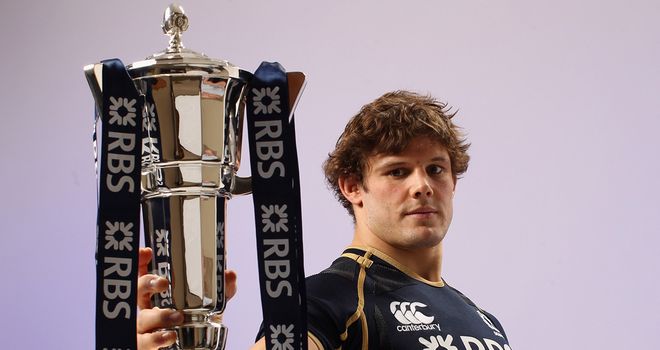 Ross Ford insists the only way for Scotland to gain England's respect would be to outplay them in next weekend's Calcutta Cup clash.
Scotland head coach Andy Robinson last week accused England of being "arrogant" during the sides' World Cup clash in October.
Robinson and his players felt disrespected by the antics of their arch-rivals, who sealed a last-gasp victory in the decisive Pool B clash in New Zealand.
Ford, who has been named Scotland's captain for the RBS Six Nations, said: "It is what it is. For me, the focus now is about earning respect from teams by our performances.
"That starts from us delivering on the pitch. That's the only way, for me, now the team moves forward."
Dream
Ford will lead his side out at a packed Murrayfield a week on Saturday determined to avenge that World Cup defeat and become the first Scotland captain to lift the Calcutta Cup for four years.
"As a kid, you always want to lead your country out and win," said the Edinburgh hooker. "It doesn't change now that I'm here.
"I always go into every game looking to win it and looking to perform well.
"So I just have to make sure that I go on the pitch and I do my job and perform under pressure at the right times."
Ford was given the nod as captain after Kelly Brown was ruled out of the tournament through injury.
Robinson was determined to give the job to someone guaranteed a place in the side and bristled at suggestions the 27-year-old was not natural leadership material.
After Ford was asked whether he needed to become more vocal in the dressing room, Robinson interjected, saying: "You've not been in our dressing room.
"Ross is actually pretty vocal in that dressing room, and makes some clear points."
Experience
For his part, Ford said: "I'll talk when I need to. The boys around me have got a lot of experience and a lot of good things to say and they've been in that position before, so they can help me out.
"I don't think I need to need to speak any more than I usually do."
Ford, who has captained Edinburgh before, added: "I'm very much about leading by example.
"If I feel that something that needs saying that will take the group forward, I'm quite happy to say it."
One thing Ford will not be doing is indulging in mind games, such as Scotland's slow walk onto the field that famously preceded their 1990 Grand Slam-clinching win over England.
He said: "Just get onto the pitch and get it done. That's my thinking. Easy."