Laidlaw seeks scoring solution
Greig Laidlaw is confident he can show Scotland the way to the try line - if selected against Wales.
Last Updated: 06/02/12 3:44pm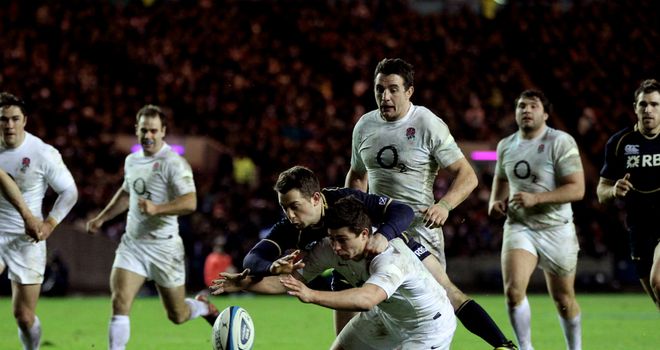 Greig Laidlaw is confident he can show Scotland the way to the try line if selected for Sunday's RBS Six Nations clash with Wales.
Laidlaw very nearly did just that in Saturday's 13-6 loss to England, only for the television match official to rule the Edinburgh captain, on at fly-half for Dan Parks, did not get downward pressure.
The 26-year-old won his third cap after leading Edinburgh into the quarter-finals of the Heineken Cup and could be given a first Test start if Scotland head coach Andy Robinson opts against retaining Parks in Cardiff.
"I was quite happy with how I played when I came on. I injected a bit of speed into the game and we definitely made some chances when I was on the field," said Laidlaw.
"I'm quite happy with that. Whether that's enough, time will tell. It's the first game of the championship, so we can't get too excited or too downbeat.
"We created a lot of chances. Next week going forward it's about taking the step over the line and scoring a try."
Mistake
Parks kicked Scotland into a 6-3 half-time lead with two penalties, but often kicked possession away in the first period.
Moments into the second half he delayed over a clearance kick and Charlie Hodgson pounced for the decisive score.
Asked about the selection of Parks and scrum-half Chris Cusiter ahead of Edinburgh duo Laidlaw and Mike Blair, Robinson said: "I'm not here to pull apart players."
Laidlaw, who won his first two caps as a replacement scrum-half, was not about to twist the knife and knows, as fly-half, he could suffer the same fate as Parks.
Laidlaw added: "He will be pretty gutted about it. That happens at stand-off, you're in the firing line.
"The ruck before slowed down a bit, there was a lot of pressure coming through on him and stand-offs sometimes get their kicks charged down. It happens."
Laidlaw almost saved the day, reaching the ball ahead of Ben Youngs with an outstretched arm, but not with a strong enough touch for the television match official.
He said: "I definitely got my hand to it. I felt I got a good touch on it and there was some downward pressure there, I felt I controlled the ball at one point."