Best eyes French scalp
Rory Best has urged his Ireland team-mates to rewrite the history books with a long-awaited victory on French soil.
Last Updated: 29/02/12 9:54pm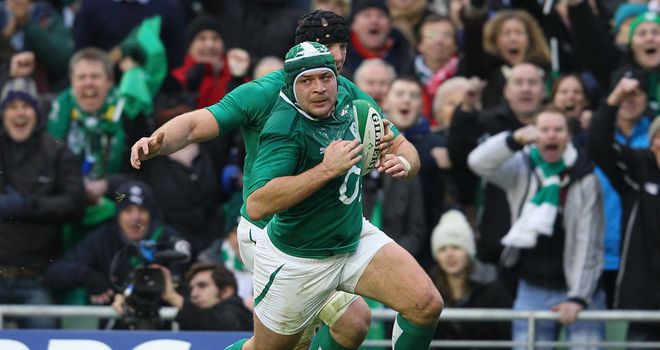 Ireland hooker Rory Best has urged his team-mates to rewrite the history books with a long-awaited victory on French soil.
Ireland go into Sunday's rescheduled RBS Six Nations clash desperate to address their appalling record in Paris of one victory since 1972 and only two since 1952.
Twelve years have passed since their last success in a match celebrated for the emergence of hat-trick hero Brian O'Driscoll, who misses this year's championship after undergoing shoulder surgery.
The overall statistics also make for grim reading, with France having emerged triumphant from 11 of the last 12 meetings.
Massive
History may be heavily weighted against Ireland, who on Wednesday named an unchanged side from the team which beat Italy 42-10, but Best insists that will only serve to make victory more satisfying.
"The record books say that us winning in Paris doesn't happen very often, so from an Irish point of view it would be a massive result for us," he said.
"We go there full of confidence, but we're fully aware of how long it's been since we've beaten them in Paris.
"It's a massive challenge, but we have a massive opportunity to write ourselves into the history books.
"As competitive players you want to have these big moments in your career. Sunday evening can be one of those for us."
Victory against the Six Nations favourites would have an impact beyond addressing one of the more bizarre records of Test rugby by also placing unbeaten Wales in command of the title race.
Ireland's own aspirations of seizing a crown they won in 2009 will only survive if they win in the Stade de France having succumbed to the Welsh on the opening weekend.
"The Grand Slam is gone and that's disappointing," Best said. "And we know that if we lose another game, then any hope of lifting silverware has also gone for us.
"But if we navigate ourselves through our remaining games we have a chance."
The game is being staged on the tournament's second break weekend after the original fixture on February 11 was postponed due to a frozen pitch.
The disruption to Ireland's schedule could yet prove beneficial as they now travel to Paris revitalised by their five-try demolition of Italy, rather than smarting at a demoralising defeat to Wales.
Exciting
"The last time we went there we had the advantage of trying to settle a score after losing the Wales game the way we did. That was always a motivating factor," Best said.
"Now we're coming off the back of a good win and have scored five tries against Italy. You don't often see Italy concede 40 points these days.
"It's very encouraging to go to France with that in the bank. We've also had another few weeks together so we're ironing out the wrinkles.
"But any time you to go Paris is an exciting time. We want the win that has been so elusive for Irish rugby for so long.
"The French have this reputation of being all-action and maybe in the past we've tried to match that, while they've played smart rugby against us.
"Any time I've been there we've been uncharacteristically loose in the first 20 minutes and do things we wouldn't normally do. We've talked about that and want to rectify it."