North - Forget the hype
George North is confident Wales can keep their focus ahead of their Grand Slam clash with France next Saturday.
Last Updated: 11/03/12 1:51pm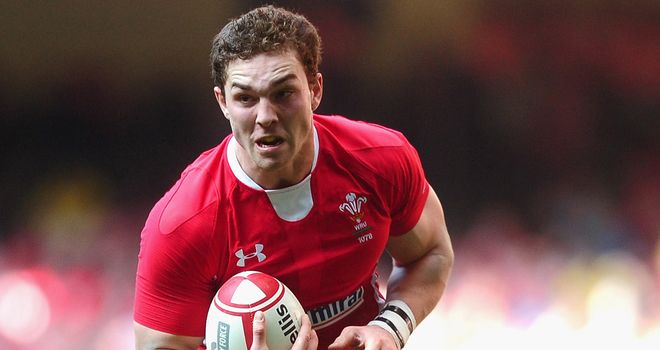 George North is confident Wales can keep their focus ahead of their Grand Slam clash with France next Saturday.
Victory over Les Bleus at the Millennium Stadium would give Wales a third Six Nations title and Grand Slam in eight seasons.
Just 20 caps into his Test career, 19-year-old North is relishing a chance to write another major chapter in Welsh rugby history and believes Warren Gatland's side can keep their focus amid the hype.
"We can't really deny the fact we have a Grand Slam game coming up," said the Scarlets wing.
"It is something we can think about now, but it is just another Test match, really. I think it will be a good game - a great spectacle.
"There is going to be a lot of hype this week - I am sure it will be built up nicely for us.
"But we are quite good at blanking things out. We will just dig in and do our job, and whatever people want to say, they can say. We will just come in on Monday morning and train hard.
"I am sure there are plenty of people who will hype up the game left, right and centre, but we want to let our rugby do the talking."
Moved on
Victory would also see Gatland's side avenge a 9-8 defeat in the contentious World Cup semi-final last October.
Wales had skipper Sam Warburton sent off for a dangerous tackle in that defeat, but North believes both sides have now moved on.
"There will be a lot of hype about revenge and redemption after the World Cup, but I think both teams have moved on since then," North added.
"They are playing well, we are playing good rugby as well, so I can't really see who is the favourite. It is a case of us tightening up and being clinical when the chances come.
"We need to be a bit more efficient around the park. Little mistakes didn't really help us against Italy. They disrupted us really well, and we couldn't get into our zone.
"I think we learnt loads from the World Cup. If you look at the way we are playing, there is more confidence in our game, we are throwing the ball around."
Impact
Meanwhile, North's Scarlets team-mate Matthew Rees, who is set to win his 50th cap in the clash, has hailed Gatland's impact on the squad.
"We all know how successful 'Gats' has been as a coach," Rees said. "He is as honest as the day is long, and I think that is what you want from a coach. You want him to be honest with you, whether it is right or wrong.
"He has massive experience, he has got a good back-room staff with him and he put the fundamental building blocks in place when he first came here.
"Warren knew it was going to take a couple of years before we actually got any success. The way we train is tough, and credit to all the boys for the work that goes in.
"We work hard for each other, and the rewards will come. We showed that in the World Cup, and we've shown it in this Six Nations so far.
"No-one's position in the team is safe, and it is keeping every single player on his toes. I don't think we have had that sort of strength in depth in the past.
"Warren is his own man and he has got his own ways, and it is working well for us."