Ford voices spoon fears
Ross Ford admits he and his Scotland team-mates are "desperate" to avoid the ignominy of the wooden spoon when they take on Italy.
Last Updated: 13/03/12 5:36pm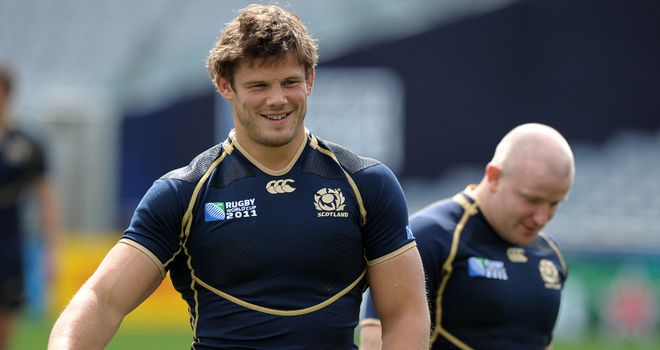 Ross Ford admits he and his Scotland team-mates are "desperate" to avoid the ignominy of the wooden spoon when they take on Italy this weekend.
After promising RBS Six Nations showings, albeit in defeat, against England, Wales and France, Scotland's progress was brought to an abrupt halt by a resounding 32-14 loss against Ireland in Dublin.
The result extended Scotland's winless streak to six matches and meant for the third successive year a win on the final weekend of the championship is a must to avoid finishing at the bottom of the table.
Speaking of Scotland's chances of recording a first win in Rome since 2006, a bullish Ford said: "I don't think things have gone wrong off the pitch. Things on the pitch haven't been ideal but we've shown a lot of improvements from where we were last season.
Effort
"We could have had more wins than we have just now, but it's down to our own doing.
"The boys are just desperate to get a win for all that effort we've put in - we need something to show for it.
"We've had opportunities when we could've won two out of the four games, but as it is we're going to Rome and we need to get this win. It's all in our hands. We've got the game to beat Italy."
There are concerns head coach Andy Robinson, who is contracted until the 2015 World Cup, might resign if Scotland lose at Stadio Olimpico, thereby extending their run to seven straight losses for the first time since 1998.
The Italy fixture will definitely be Scotland attack coach Gregor Townsend's final game before he takes over as head coach at Glasgow, with incumbent Sean Lineen taking on a recruitment role.
Ability
Ford is adamant the changes have not been a distraction. He said: "We're all professional players. We've got a big game this weekend and that's our sole focus."
Ford was at a loss to explain the Aviva Stadium defeat but has vowed Scotland will respond.
He said: "We've been wondering where that game, where that performance came from, because it's not what we've shown in this championship. It was nowhere near where we need to be.
"We let ourselves down on Saturday, but we're well aware we've got the ability to win the game (against Italy)."
Ford insisted Scotland will stay true to the expansive game which has brought plaudits, but few rewards, thus far.
He added: "We've got to make sure we play with a pace that they can't keep up with, we keep the ball for long periods of time and convert that pressure into a result on the scoreboard."