O'Callaghan ready for England
Donncha O'Callaghan admits England's white jersey remains a "red rag" to Ireland ahead of the RBS Six Nations finale at Twickenham.
Last Updated: 15/03/12 3:42pm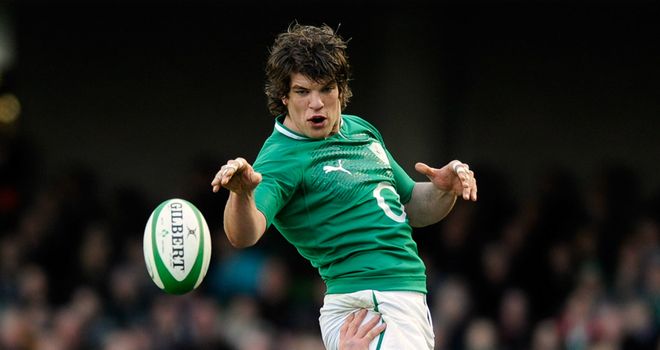 Touring with the Lions may have corrected Donncha O'Callaghan's misconceptions over England players, but he insists the white jersey remains a "red rag" to Ireland.
All week the Irish have spoken of their enduring rivalry with England, who they meet in Saturday's climax to the RBS Six Nations at Twickenham.
Stephen Ferris accused the English of being "bad losers", while Rory Best and Rob Kearney have argued that Ireland's dominance of the fixture since 2004 is purely because they are a superior team.
Kearney also admitted his surprise that Stuart Lancaster's side defeated France in Paris last weekend.
And O'Callaghan, who toured with the Lions in 2005 and 2009, claims that facing England awakens the competitive spirit like no other opposition.
Perception
"I wouldn't say I'm friendly with any of their players, but I've been on Lions tours with them," the 32-year-old said.
"The biggest thing I've taken away those tours is that you can build up a perception of people before you actually get to know to them.
"I remember going on Lions tours believing half these fellas are eejits (idiots) and that I wouldn't like them, only to come away thinking they're the soundest guys you could meet.
"That's definitely been the case, but come Saturday they'll be in an England shirt and nothing will change in the way we treat them.
"England shirts are a red rag to the Irish. When we play England in anything, we want to do well and perform.
"Maybe it goes back to Euro '88 (the Republic of Ireland beat England 1-0) or something like that - you tend to remember great days of Irish results against England teams.
"It lifts the place and secures bragging rights for a while.
"Sometimes you don't like to be the small nation so when you play England it's a chance to show them up."