Williams to wing it in Japan
Shane Williams will prolong his playing career in Japan after putting pen-to-paper on a one-year deal with Mitsubishi Dynaboars.
Last Updated: 13/06/12 10:32am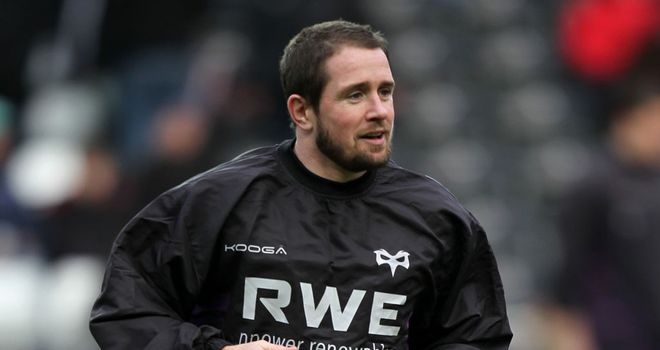 Shane Williams will prolong his playing career in Japan after putting pen-to-paper on a one-year deal with Tokyo-based outfit Mitsubishi Dynaboars.
After retiring from international and club rugby at Wales and Ospreys respectively, Williams has now accepted an opportunity to finish his glittering career in the Far East.
Williams has had a series of farewell games since he retired from the international scene in Wales' match against Australia at the Millennium Stadium last December.
And it was thought his appearance for the Barbarians last weekend in Cardiff would be his last professional game.
But the 35-year-old has been tempted back for one final hurrah, after receiving an offer he reveals came "totally out of the blue".
Fantastic
"At first I said no, it came as a real surprise and the offer only came shortly before the Barbarians match," Williams told Wales Online.
"But then when I sat down with my wife to discuss it we realised what a great opportunity it would be.
"So we're all going and I'm excited. I have spoken to players who know what it is like out there, the likes of Mils Muliaina, Jerry Collins and George Smith, and they all said the life experience is fantastic.
"That helped persuade me to give it a go. It's a bit of a step into the unknown, but one hell of a challenge."
Williams will meet officials of his new club in Japan on Saturday and scout around for potential places to live.
He then goes back permanently in August to begin what will be his final season in the professional game, assuming nothing else comes "out of the blue" after that.
After his contract expires, Williams says he will return to Wales where the door will remain open for him at the Ospreys, where he had been due to take up an ambassadorial role in the coming season.
"The Ospreys have given me their blessing and I'm grateful to them for that," added the former world player of the year.
"I never thought I would get the chance to go and play somewhere like Japan and I really feel this has to be grabbed while it is there.
Surprises
"It's been an incredible season for me, finishing with Wales and then ending the season on such a high with the Ospreys by winning the RaboDirect title, and I really thought the Barbarians game would be my very last.
"But sometimes life has surprises and that's what this was. I was all ready to hang my boots up.
"To be honest it is a little bit daunting. But I'm going to go out there and try to throw myself into it and I hope we can all settle as a family.
"It's a new culture and it is obviously going to take a bit of getting used to for someone like me who has always valued his roots so much.
"But it's not forever and I'll be coming back to Wales."
The Dynaboars were demoted from Japan's top flight at the end of last season will be attempting to bounce straight back up from Division Two.