Robshaw eyes Jo'burg win
Captain Chris Robshaw knows England must make history to haul themselves back into their Test series in South Africa.
Last Updated: 15/06/12 2:26pm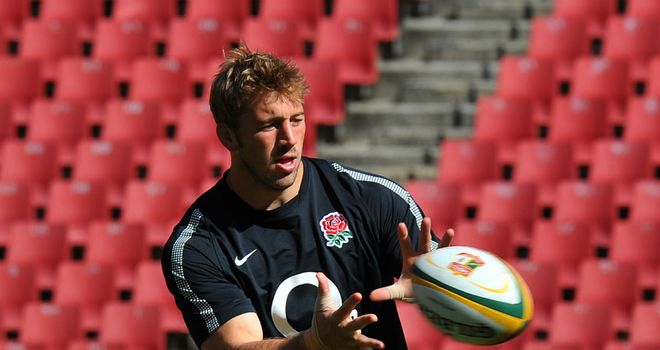 Captain Chris Robshaw knows England must make history to haul themselves back into their Test series in South Africa.
England, 1-0 down with two matches to play, face the daunting task of having to beat the Springboks at their most famous and formidable venue in Johannesburg to get back into contention.
South Africa have lost just once at the ground now known as Coca-Cola Park - formerly Ellis Park, scene of the 1995 World Cup triumph - in the last 10 years.
England have not played there since 1984 but can take encouragement from the fact the Springboks' one recent loss at the stadium was against the British and Irish Lions three years ago.
Robshaw experienced the ground for the first time as he led the 'captain's run' final training session before Saturday's match.
"We went down there for our team run and it was incredible," said Robshaw.
"You look around - these are the stadiums you watch on TV and it is so impressive.
"It is where the Lions played their last game and it is so iconic.
"You run out there and all the players get that feeling of excitement. We want to come here and put our mark on history.
"Of course it is not going to be easy but it is extremely exciting and something every player is looking forward to."
Changes
England head coach Stuart Lancaster has made some bold changes as he looks to bounce back from last weekend's 22-17 loss in Durban.
Powerful three-quarter Manu Tuilagi has been moved to inside centre with the exciting talent of Jonathan Joseph brought in for his first start outside him.
Toby Flood has also been restored at fly-half in place of Owen Farrell.
Robshaw hopes the changes will give the team more of a creative spark after spending long periods defending in Durban.
The 26-year-old said: "We just need to mix it up a bit more, it is about moving them around. They have got some big guys.
"But we are focusing on what we are good at. It is about playing at a tempo and controlling that at the right time.
"It is about having that balance and being able to test them in certain areas."
England have been forced into making one change to the 22-man squad initially named for the game with forward Phil Dowson, who was one of the substitutes, forced out with a hamstring injury.
His place on the bench will be taken by Leicester's uncapped back rower Thomas Waldrom, who impressed by scoring two tries in the midweek win over the Southern Barbarians in Kimberley.
Robshaw said: "Thomas has been brilliant.
"We have played against each other a couple of times this season and he has always been one of those players who have stood out.
"He is one of those great players who has the ability to hit the line.
"That is something players don't get a lot of credit for - hitting the line at the right time - and he can really make an impact on Saturday."
Another factor against England, who have lost their last eight Tests against the Springboks, is the climate with the players unused to playing at altitude.
Robshaw said: "It's pretty tough but we have been training at altitude and we are ready.
"We don't know what to expect until we get out there but we have prepared the best we can."