Baxter's men prepared
Exeter's head coach Rob Baxter insists the Chiefs are undaunted by facing Europe's heavyweights.
Last Updated: 05/10/12 10:34am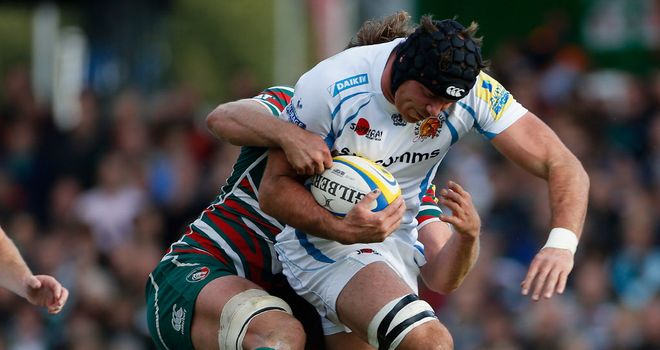 Despite Exeter's reward for reaching the Heineken Cup being the most punishing group imaginable, head coach Rob Baxter insists the Chiefs are undaunted by facing Europe's heavyweights.
Champions Leinster, aiming to become the first team to win three successive titles, talent-laden Scarlets and French giants Clermont await in Pool Six.
Exeter will be prepared for their opening two fixtures by a series of high-profile encounters with some of the Aviva Premiership's elite.
By October 13, when they travel to Leinster, and then hosting Clermont seven days later, Baxter is sure they will be nearing completion of a period that will be remembered for years to come.
Fantastic challenge
He said: "We've been given this run of games - Saracens, Leicester, Harlequins, Leinster and Clermont.
"It's a set of fixtures that no matter how successful you are in your career, you might never experience.
"But rather than being intimidated, is that not a fantastic challenge? They're almost like five Tests on the bounce.
"If you're a good player, ambitious and in professional rugby for the right reasons, what more can you ask for?
"In the Premiership we still have too many people talking about how tough and attritional it is; that it's a marathon. But of course it is and that's what makes it great.
"We face a great and exciting challenge. Whatever happens during our pool, we will emerge a stronger and more experienced group of players. That's the club moving forward.
"First up we play the champions Leinster - what a fantastic reward for the fans and players of Exeter."
Strong foundations
Baxter sees the Chief's participation in the Heineken Cup as the latest stage of development for a club that is slowly looking to build strong foundations.
He added: "We see being in the Heineken Cup as a reward for the consistency we showed last season, achieved on the back of a lot of hard work.
"It's a great competition to be involved in, but it's not the be-all and end-all at this stage of our progression.
"We have five- and 10-year plans in place. We haven't set any immediate objectives in that if we don't get so many points in the Heineken Cup we've failed.
"We want to be a solid side who are in the top half of the Premiership. That means we'll be there or thereabouts for the Heineken Cup.
"If we can push for the top four in five years' time with our support base growing, that will be fantastic."
By-product
Outside Sandy Park, Exeter have defied all expectations since their promotion to the Premiership two seasons ago.
Having marked their top flight debut by easily dodging the relegation dogfight that usually accompanies every newcomer, they went one better last season by finishing in a stunning fifth place.
Qualification for the Heineken Cup was the by-product for a team short on household names, yet full of quality and self-belief.
Baxter continued: "I always thought we'd be competitive in the Premiership.
"In our last season in the Championship we were watching the bottom four sides of the Premiership scrap out some pretty dire relegation dogfights.
"We never thought the gap between the two leagues was that big and I believe we've proved that. The gap everyone talks about is a myth.
"A lot of people are surprised to see us in the Heineken Cup, but we knew it could happen."