Rio 2016 Olympic Games: Venue hitch for rugby sevens and event could move to athletics stadium
Paperwork problems will force Rio Olympics chiefs to move the rugby sevens from its scheduled venue.
Last Updated: 02/11/12 2:27pm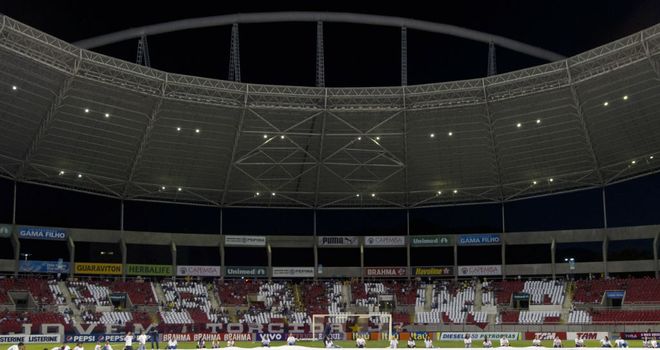 Rio 2016 chiefs had wanted to play the rugby sevens at the Sao Januario Stadium - home of football club Vasco da Gama - but the tenants have failed to supply the necessary documents to the authorities.
The organising committee have now stated that the return of rugby to the Olympics could be now played at the main Joao Havelange Stadium which will also host the athletics.
"The Sao Januario Stadium had been identified by Rio 2016 as the potential Rugby Sevens venue, subject to delivery criteria being met," said Rio 2016 organisers in a statement.
"The Clube de Regatas Vasco da Gama was requested, on 9 April, 2012, to provide detailed plans and all guarantees, including financial, related to the provision of the stadium under the conditions required by the IOC and the International Rugby Board (IRB) for the event by 31 October, 2012.
"As the documents requested were not received by the required deadline, Rio 2016 is now going to undertake a reassessment of the operational plans for the Joao Havelange Stadium, in conjunction with the IRB and the IOC, in order to ensure that rugby sevens' Olympic Games debut is both successful and memorable."
Rugby is back in the Olympics for the first time since 1924 but it will be a debut for the sevens format, and the International Rugby Board are keen for the competition to go off without a hitch.
With the sevens just taking two days it should not pose a problem to play the event in the opening week of the Rio Games before changing the stadium into an athletics venue, and the IRB are keeping close tabs on the situation.
"The IRB has been kept fully informed by Rio 2016of the on-going discussions regarding the selection of the sports venue for the Olympic Games Rugby Sevens events," said an IRB statement.
"The IRB will continue to work alongside Rio 2016 and the IOC to ensure the delivery of outstanding and successful rugby sevens events for teams, fans and the Olympic and rugby families."