Tom Youngs is loving life as a hooker as he prepares for England debut against Fiji
Tom Youngs has revealed his love for the new role of hooker as he gets ready for his England debut
Last Updated: 10/11/12 12:43pm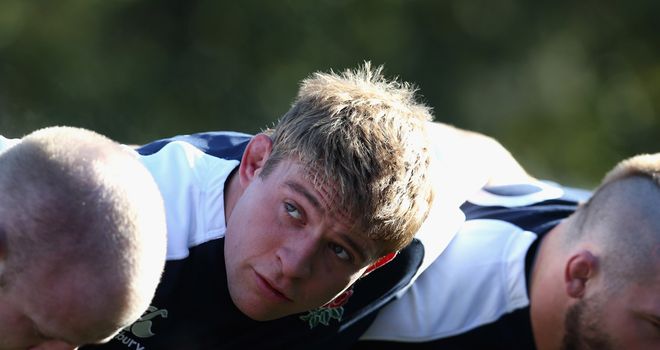 The Leicester 25-year-old will face Fiji at Twickenham just three years after making a bruising transition from his old position at centre.
Youngs, whose brother scrum-half Ben is on the England bench, said: "My first 80 minutes as hooker was a warm-up game for Nottingham against
Leicester.
"I played against Marcos Ayerza, Mefin Davies and Martin Castrogiovanni and I
was on painkillers for the rest of the week.
"My dad (former England scrum-half Nick Youngs) rang me after the game and
said, 'Where are you?'. I said I was sitting on the wall outside and I couldn't move. 'You are going to have to come to me!'
"He looked at me. I was absolutely knackered. I could hardly hold my neck up.
He asked if I had enjoyed it. I said, 'You know what, I did'. I don't know what I enjoy about it. It is the physicality, the challenge of it. I love it.
"In life, if you don't enjoy challenges what is the point in living? I think the whole process has made me a better person.
"To watch your brother run out at Twickenham, it doesn't get much more special than that but we can top it by both playing."
It is quite a turnaround with Tom needing back surgery last year and has made just seven league starts for the Tigers and two in the Heineken Cup in the current campaign.
England forwards coach Graham Rowntree is in no doubt about the potential of the converted hooker and said: "The signs are he is going to be a very, very good player."