England coach Stuart Lancaster offered captain Chris Robshaw his full support
Stuart Lancaster offered captain Chris Robshaw his full support in a meeting at the England team hotel on Sunday night.
Last Updated: 25/11/12 11:38pm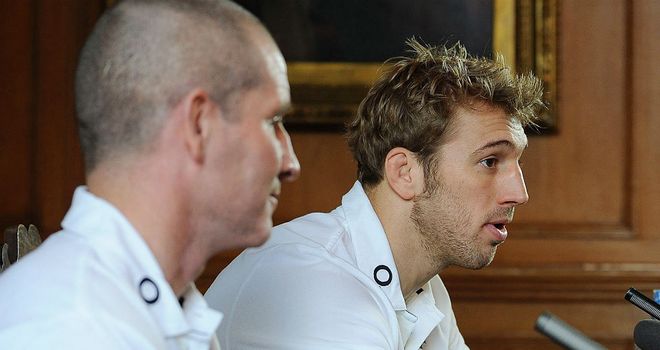 Robshaw's decision-making is under the spotlight again after he instructed Owen Farrell to kick for goal when England trailed South Africa 16-12 with two minutes remaining.
Last week, Robshaw was criticised for turning down the points on offer and going for the try as England chased the game against Australia.
On Saturday, Robshaw believed a quickly-taken three points from Farrell would still leave England time to gather the restart, get back downfield and win the game.
But Robshaw's authority was cast into doubt when Farrell openly disagreed with the decision to go for the posts, urging him to kick for the corner.
Robshaw asked referee Nigel Owens if he could change his call and was denied. Farrell kicked the goal but Mouritz Botha fumbled the restart and South Africa won 16-15.
"International sport is tough. It's tough for coaches, it's tough for players, it's tough for people if they make a mistake," Lancaster said after the game.
Trust
"It happens all the time and what you've got to do is make sure people are supported. There is a trust that things will be discussed behind closed doors in the right way and we move on.
"You look at the decisions the players make and you want to support them first and foremost, which is what I will always do.
"We will review them in private but there were a lot of critical moments in the game and the positives out-weighed the negatives.
"I spend time with Chris as captain. It is important that the head coach and captain have that relationship.
"Last Sunday we had a good chat in camp before everyone else turned up and we will do the same again tomorrow night."