Chris Robshaw says amazing win over New Zealand proves England finally 'clicking'
Captain Chris Robshaw says their astonishing 38-21 victory over New Zealand proves England are "beginning to click".
Last Updated: 01/12/12 6:01pm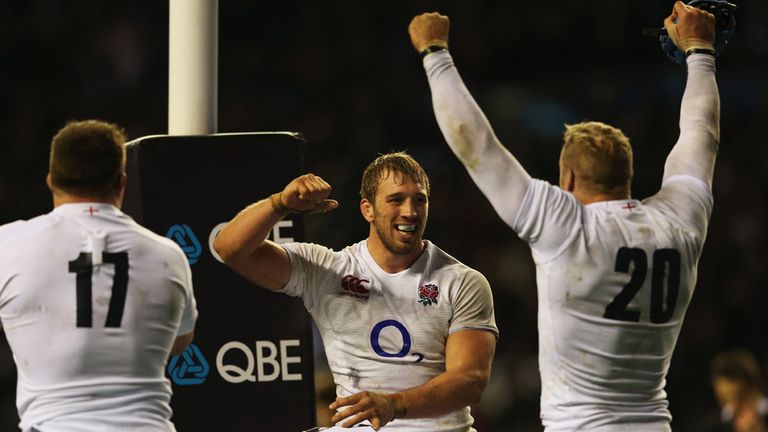 Defeats to Australia and South Africa in the previous two weeks left coach Stuart Lancaster and Robshaw himself under major pressure.
But an astonishing performance at Twickenham saw the world champions humbled for the first time this year, and it was a record margin of victory for England against the All Blacks.
Robshaw told Sky Sports said that whilst it was important not to get too carried away with the victory, the signs are good.
"We're always building towards something and we won't get carried away by today, the same as we didn't get carried away from the last two defeats. It's a work in progress but it looks like we're beginning to click," he said.
"People had written us off. That fuelled the fire. Everyone ran out there and believed we could do it.
"We had a bit of luck. We had the bounce of the ball but to beat the world champions you need a bit of that.
"A lot of people put their hand up, Tom Wood was outstanding and it's a great way to finish the international series.
"We'll have a few quiet ones tonight - it's been a hell of a day. We just want to thank the crowd and everyone who stuck by us this week."
Wood, man of the match after an immense afternoon against the All Blacks back-row and in particular Richie McCaw, was thrilled.
"It's an absolutely brilliant day, a day that will live long in the memory. I don't think I'll forget this one. We poured our heart and souls into that. It's been a frustrating couple of weeks and to come out play like that against such a brilliant team - it's just a brilliant effort from the guys.
"I was still pretty nervous at half-time, we knew 15 points wasn't enough. We put a big emphasis on the first 10 minutes of the second half, and scoring the next points but it fell apart and they got two quick tries. We got a little bit of luck and a few breakways."