Exeter have tied down Brett Sturgess and Gareth Steenson on new contracts
Exeter have secured the services of two more senior players after Brett Sturgess and Gareth Steenson agreed new deals.
Last Updated: 23/12/12 11:28am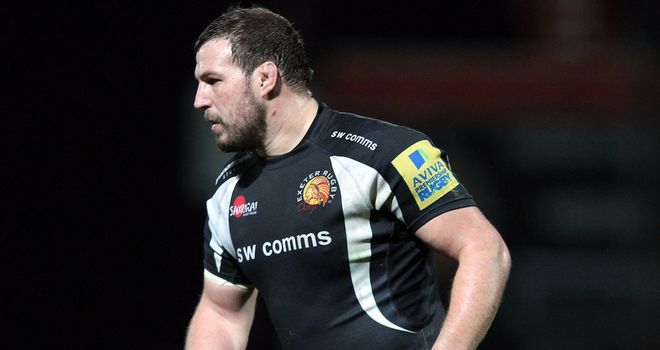 Full-back Luke Arscott committed his future to the club earlier this week and Sturgess and Steenson have also decided to extend their stay at Sandy Park by accepting similar two-year deals.
Head coach Rob Baxter is glad to tie down two more of his players and is hopeful a few other members of his squad will follow suit before he looks to strengthen the Chiefs with some new recruits.
"Brett and Gareth have signed on, as well as Luke, so we are starting to get through the bones of a team, and what we have got together for next year is already looking pretty solid," he said.
"What we have to do now is pin down the last few guys we want to from the current squad, then make sure the guys we want to bring in are there for us and that we work hard on getting them in. Right now, though, I am pretty comfortable with where we are."
Arscott, Sturgess and Steenson had all been linked with moves away from Devon, but Baxter was confident the trio would stay at a club which offers them the chance to compete in the Heineken Cup.
"A fair bit of linking with other clubs goes on, because there are a number of players out in the market, and directors of rugby look at the players who are available, and some they are interested in, and some they are not,' said Baxter.
"There is always some kind of speculation, but the reality is if you are in the Heineken Cup, are enjoying what you are doing and having a decent Premiership season, you are in the box seat a little bit, and I think we feel we are a club where the players enjoy being.
"I think their first instinct is always to stay, but you just have to take your time and make sure it is a worthwhile situation for both the player and the club.
"Personally, I am really pleased to have Brett and Gareth on board, because these guys have been key members of the side right through from the Championship, and I would like to think they are still improving as players."