Ireland and Leinster fly-half Jonathan Sexton set for French move
Ireland and Leinster fly-half Jonathan Sexton looks likely to play his club rugby for Racing Metro from next season.
Last Updated: 25/01/13 2:59pm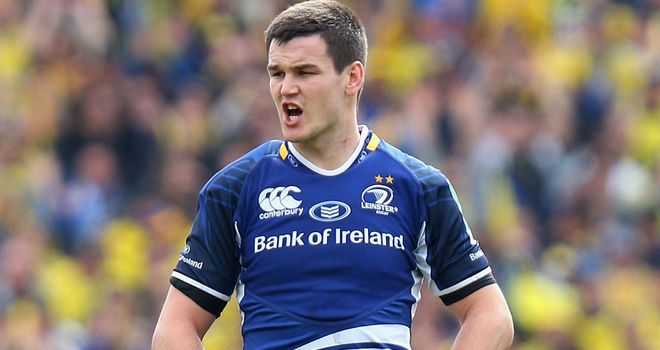 The Irish Rugby Football Union (IRFU) has been informed Sexton will not be renewing his contract with them.
The 27-year-old has won 34 caps and is one of the leading contenders to be the British and Irish Lions Test fly-half against Australia later this year.
Sexton was also a key player as Leinster claimed the Heineken Cup three times in the last four seasons, as they defeated Leicester, Northampton and Ulster.
He is expected to earn up to £1.7m a year with the French Top 14 side and IRFU chief executive Philip Browne admitted they were unable to match their wage offer to keep him in Ireland.
"We are very disappointed, as we know the Irish rugby public will be, that Johnny Sexton will not be playing his rugby full time in Ireland from next season," Browne told their official website.
"Johnny is a major talent and his full-time presence in Ireland will be missed, particularly by Leinster. We wish Johnny continued success with his career and he will receive all the support he needs over the next number of weeks in what we know was a very difficult decision for him.
"While we remained in the fight right up until the last possible moment to keep Johnny in Ireland with a very strong offer.
"Ultimately, following negotiations with the player's agent, we had no option but to take the decision that it would not be in the best interest of Irish rugby to chase the reported financial incentives being offered.
"The IRFU has made a commitment to, and been largely successful in, keeping as many Irish players as possible playing full time in Ireland.
"However, we have always recognised that some of our players will be targeted by overseas clubs with offers which, quite simply, are not within our orbit.
"While Johnny has made the decision to move on to a new club, the IRFU is fully committed, together with the provinces, to maintaining its programme of nurturing and retaining Irish rugby talent.
"We feel that the benefits of the careful and considered management of those players will allow us to maintain this policy."
Leinster head coach Joe Schmidt admitted he was disappointed to lose Sexton but recognised how difficult it can be to hold on to leading players with the financial rewards available in France.
"Naturally, I'm disappointed. I've really enjoyed Johnny's input over the last few years and he has added tremendous value to the Leinster environment both on and off the field.
"The offer he has received is exceptional, even by French standards, but I know that it was still a tough decision for him."