England struggling in Las Vegas
England lost both their matches, against Fiji and Portugal, on the first day of the USA Sevens event held in Las Vegas.
Last Updated: 09/02/13 12:56pm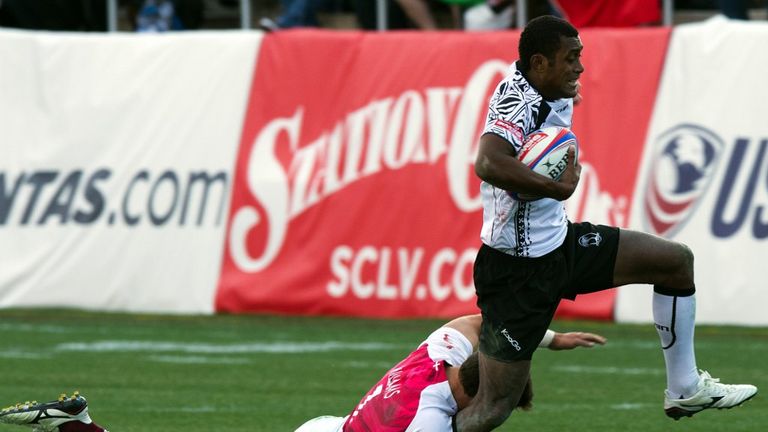 Four teams - defending champions Samoa, Fiji, South Africa and New Zealand - have won both of their matches to lead the way, but the Cup quarters remain wide open with the final pool games still to be played on Saturday.
On another competitive day results at the Sam Boyd Stadium have left all 16 teams still capable of qualifying for the Cup quarter-finals on day two.
If three teams are level on competition points at the end of the pool stages, the team with the highest points difference will go through to the Cup quarters.
Kenya - who were edged out by England in the Cup final in Wellington - lost to Canada and only narrowly beat Uruguay.
Spain bounced back from an opening defeat to defending champions Samoa to produce a remarkable performance and beat Australia, ending their impressive run which had yielded nine wins in their last 10 matches.
Fiji, who will be without both their suspended captain Setefano Cakau and Manueli Lagai for the remainder of the tournament, won both of their opening matches on day one of the USA Sevens at the Sam Boyd Stadium, narrowly holding on to a 14-12 victory against Scotland, with Russell Weir narrowly missing a last-minute penalty drop goal.
England, last week's champions, lost both of their opening matches, against Fiji 26-17 with two tries from Samisoni Viriviri and Portugal, 21-5.
Scotland beat Portugal in their first match, with Mark Robertson and Michael Fedo scoring the tries and Colin Gregor's touchline conversion proving decisive.
All three teams, however, are still in with a chance of reaching the Cup competition depending on results on day two.
Defending champions Samoa maintained a 100 percent record on day one, beating hosts USA and Spain.
They came from 12-0 behind to beat Spain 19-12, with captain Afa Aiono scoring the winning try under the posts to the delight of the crowd at the Sam Boyd Stadium, before Levi Asifa'amatala and Reupena Levasa scored the tries against USA.
Spain bounced back to defeat Australia 24-14 to bring an end to an impressive run from Michael O'Connor's side, who had won nine of their previous 10 matches.
The hosts USA lost their opening match to Australia 26-7, although they too can still make it to the Cup tomorrow if they beat Spain and points difference goes their way.