Sean O'Brien says Ireland must play with 'manic' ferocity against France
Sean O'Brien says "losing is not an option" when Ireland take on France at the Aviva Stadium on Saturday.
Last Updated: 09/03/13 4:39pm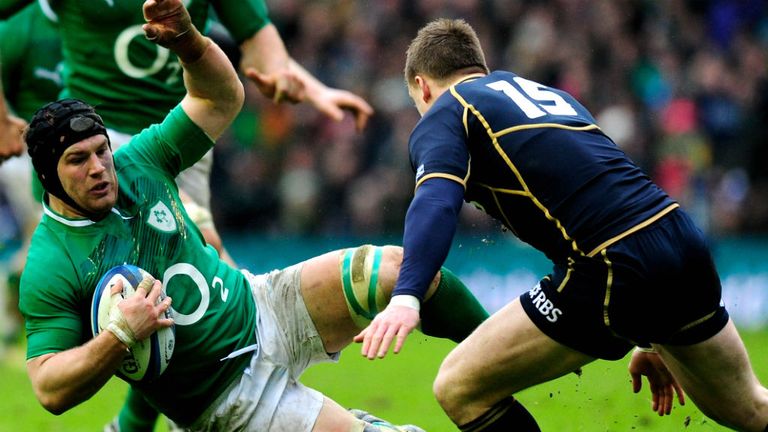 After beginning their Six Nations with such promise by beating Wales, Ireland have suffered back-to-back defeats to England and Scotland, whilst for the French it has been even worse - three straight defeats.
It has been 15 years since Ireland finished bottom of the table, but that is the fate that may await them in Rome on Saturday week if they lose to the French.
As a result, O'Brien has called for the Irish to play with "manic" intensity against Les Bleus.
"To win any international you have to beat up the opposition. Physically we'll have to go to that place where it's manic and they don't know what's coming at them.
"Both teams need to win, but if you're desperate you can do some silly things.
"It's about having a clear mind and being aware of the circumstances you're in at any given time.
"We know what we have to do against France - losing is not an option. There is a pride element and we're playing at home. If we win the last two games we leave ourselves in a good enough place, hopefully. That starts this weekend.
"We need to come out of the traps nice and hard. After the disappointment of losing to England and Scotland, everyone's up for it.
"I don't care about how France have been doing or where they finish up, it's about us, this team and this squad. All I'm worried about is making sure we're in the right place this weekend.
"We're created so much and aren't that far away from it. A ball here and there and it would have been different. It's about knowing how to finish.
"That are more positives than negatives. Although results haven't gone our way we are creating chances. We need to show more composure."