Leigh Halfpenny says he went back to basics in order to kick Wales to victory
Wales full-back Leigh Halfpenny felt he came through a test of character during Saturday's game with Scotland.
Last Updated: 10/03/13 1:43pm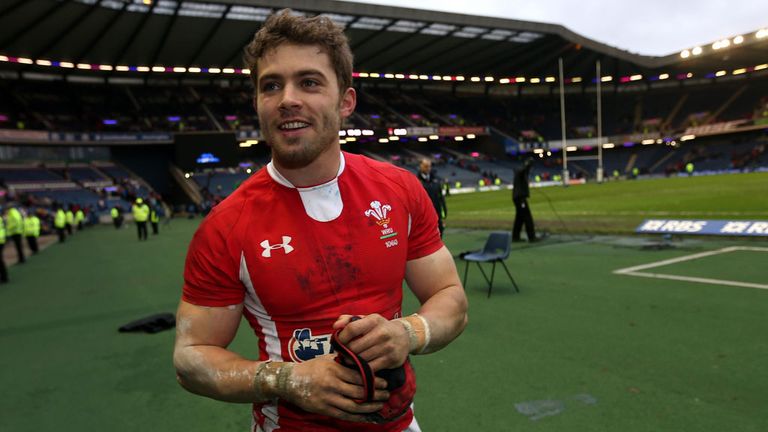 In a game dominated by penalty kicks, Halfpenny missed three crucial ones in a row, but he recovered his composure and booted Wales to victory after the break, finishing with 23 points in a 28-18 win.
"As a kicker, it was probably my toughest challenge, having missed those three kicks," said Halfpenny.
"One or two of them I felt I hit well enough to go over and then, all of a sudden, the wind caught it.
"It is a test of character when you miss three like that and, I will be honest, I was thinking it could go two ways.
"It could go really wrong or I could get myself together and go back to basics, and that's what I did."
And Halfpenny added that at no point did he think about handing over the kicking job to one of his team mates.
"I wanted the responsibility and it wasn't an option to hand over to anyone else," he said.
"It was really tough out there kicking. You would throw a bit of grass up in the air and it would go in a full circle and then land by your feet!
"The conversion of Richard Hibbard's try was huge. If I had missed that, it could have gone horribly wrong. I was really pleased with the way I struck that one.
"You've got to forget what has gone on and just focus on your next kick and try to make sure it is a positive one.
"You go back to your basics, getting a good contact and kicking through the ball, staying upright. Especially in windy conditions, it's important you get your body through the ball and keep momentum and power."
Wales will now be at home to England in a huge game next Saturday and Halfpenny is looking forward to it.
"It's Wales versus England, the players will be bouncing off the walls for it," he said. "It's what we have waited for.
"We've been there last year with a championship decider in Cardiff (against France) and it was unbelievable, the streets of Cardiff were just rammed. It's going to be massive again next weekend."