Tom Wood says England must deny Welsh 'tricks' during Millennium warm-up
Tom Wood warned England to ignore Welsh "tricks" during the pre-match warm-up in Cardiff on Saturday.
Last Updated: 16/03/13 4:53pm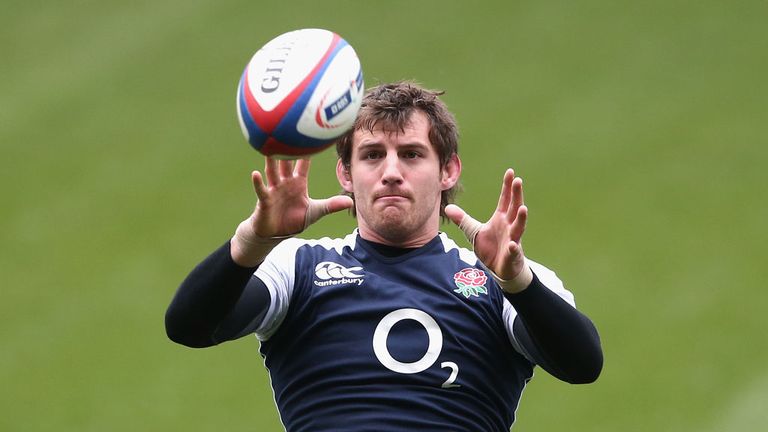 Wood made his England debut against Wales in Cardiff two years ago and he remembers being unsettled by the noise and "sideshows" as the players were put through their warm-up routines.
"There is a lot of sideshow before the game," Wood said. "There is a lot of noise. You have your side of the field to warm up on and there are often bands playing and an awful lot going on. It can be a little bit unsettling at times.
"I don't know if it is a deliberate ploy to try and unsettle your warm-up routine or if it is because there is a confined space and they are looking to get as much going on as possible.
"I remember my debut and the noise and atmosphere in the warm-up made it very difficult to hear the guy two yards away from you. The simple warm-up drills we do were very difficult.
Worried
"I was worried about the game. I was thinking, 'If I can't hear this in these tight spaces and simple plays, how am I going to understand the complicated stuff and get messages back and forwards in the lineout?'
"Once the game kicks off the crowd settle down it wasn't as bad as I anticipated but it can rock you before a game if you are not aware of it. We have addressed it in our meeting."
In 2004, Sir Clive Woodward hit out at what he felt were deliberate attempts to unsettle his team at Murrayfield before a match.
Apart from the warm-up, Wood has happy memories of his debut at the Millennium Stadium and he would relish a repeat of England's 26-19 victory that day.
"Hopefully we can do something like that again," Wood said.
"We have been in some tough challenges. We had a lot of questions asked of us in South Africa last summer and in the autumn series, when things didn't go quite as well, and we have always risen to it."
Confidence
"What gives us confidence as a team is that when we have had our backs against the wall we have always come out fighting," Wood said.
"I am not saying it has always been perfect but we give ourselves a chance by the way we fight for each other and the determination amongst the group.
"That is the stuff we are focusing on this week. The bigger the game, the simpler the game plan. You just go out and get your basics right.
"We have a lot of confidence in our ability to stay focused and fight for each other. We will be in with a chance because of that.
"We are a hard-working group who fight for everything. We put a lot of pressure on the opposition with our togetherness and determination.
"We harry the opposition with our line-speed and force them into pressure situations and often teams make mistakes in those circumstances. We have seen the best teams in the world make mistakes under pressure.
"You have to add some creativity, some skill and clarity in attack to that but as long as you have the foundations in place you will always be in with a fighting chance because passion, ferocity and togetherness keep you in the game."