Top 14: Mont-de-Marsan relegated as leaders slip up
Top 14 leaders Toulon and Clermont slumped to shock defeats, both runaway title rivals losing in the Basque country.
Last Updated: 24/03/13 11:19am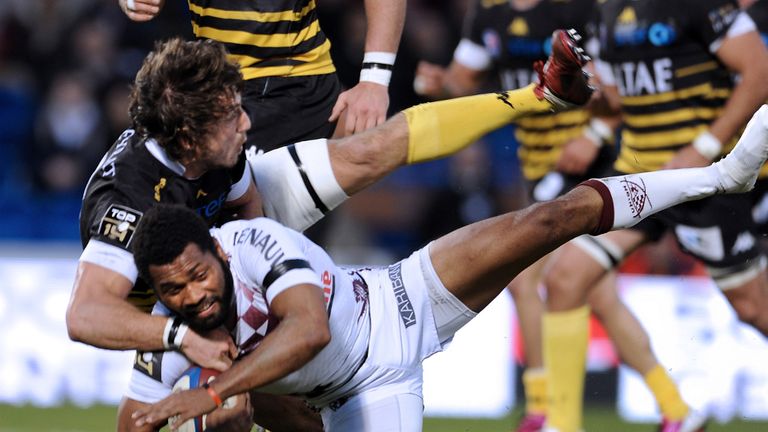 Toulon, having rested a number of top stars, suffered a 33-28 defeat away to Bayonne who avenged a 59-0 rout earlier this season.
Clermont then wasted the opportunity to take pole position by squandering a 28-22 lead at Biarritz going into the last 10 minutes before losing 32-28.
Elsewhere, Montpellier became only the second team to win in Grenoble this season to keep their hopes of making the Top 14 play-offs alive.
Bordeaux-Bègles took a huge step towards avoiding relegation with a bonus-point win over Mont-de-Marsan, who can no longer avoid the drop.
Castres held onto fourth place with victory over Agen, who now look likely to lose their place in the top division, while Racing bagged their ninth straight win at home to Perpignan.
Union Bordeaux-Bègles 40-7 Stade Montois
It's official: Mont-de-Marsan are relegated, with four rounds left to play.
UBB on the other hand now look set to stay up as they have a nine-point gap on Agen.
Castres Olympique 20-9 SU Agen
Castres regain the fourth-place they lost to Racing earlier in the day to keep the heat on Toulouse and stay in pole position for a home play-off.
CO led 13-9 at the break and will be disappointed to have not sealed the bonus point in the second half.
Agen, fighting for the Top 14 lives, were in the game until Yannick Forestier's 67th minute try.
Agen, who have a tough end-of-season schedule, are now clear favourites to join Mont-de-Marsan in the ProD2 next season.
FC Grenoble 9-16 Montpellier Hérault Rugby
A crucial result in the arce for the semi-finals as Montpellier climb above Perpignan into that all-important sixth place.
Grenoble saw their precious unbeaten home record broken by Clermont last month and nothing has gone right for them since. They can waves their chances of European qualification goodbye.
Second-choice France fly-half François Trinh-Duc proved a point by scoring the only try of the game in the 16thn minute to help the visitors to a 7-6 lead at the break.
Grenoble get a losing bonus point but will harbour regrets after Valentin Courrent landed just two of his five attempts at goal.
Biarritz Olympique 32-28 ASM Clermont Auvergne
Clermont had been 19-13 down at the interval against Biarritz at the Stade d'Aguilera, but grabbed the lead through two tries in three second-half minutes from Brock James and Davit Zirakashvili for a 28-22 advantage.
However seven minutes from time, Biarritz centre Benoit Baby scored his team's second try with Dmitri Yachvili converting for a 29-28 lead which became 32-28 with a last-minute penalty.
Scrum-half Yachvili finished with 22 points while Clermont were left with the slender consolation of a losing bonus point.