Simon Alcott of Exeter is going to retire on the advice of medical experts
Exeter Chiefs hooker Simon Alcott has been forced to announce his retirement due to a neck injury.
Last Updated: 11/04/13 12:49pm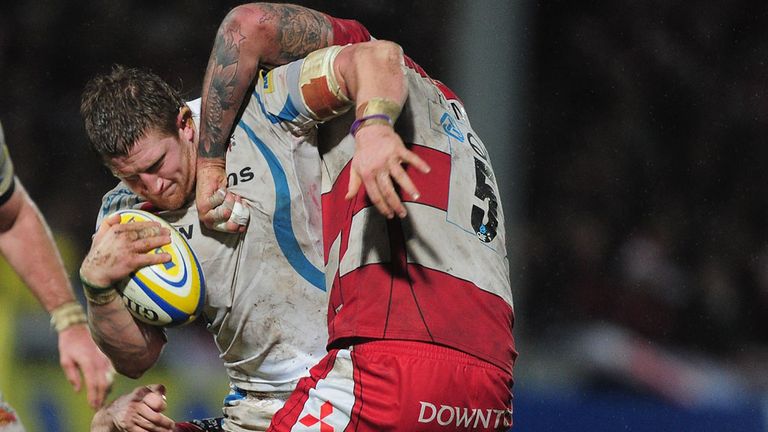 Alcott, 29, has played 71 times for the Devon side since joining from Worthing in 2008, but has decided to call a halt to his career after a number of leading surgeons and specialists told him he may be risking his long term health.
A very popular figure at Sandy Park, Alcott scored a memorable try during the 2010 Championship play-off victory over Bristol.
Alcott said: "Obviously I'm very disappointed to have been forced to retire, but rugby now is so physical and you can't really risk an injury like this.
"I've spoken to specialists and surgeons up and down the country, and the advice is that I have to retire immediately.
"Right now I feel a little frustrated, because I would have liked to have played a bit more rugby than I have done.
"Had it not been for this injury, I felt I had a few more years left in me but, talking to the medical people, this is not something I can take a risk with.
"Being a front-row forward, any kind of injury to the neck is not something you can choose to ignore.
"In sport you will always have highs and lows and the high points for me have been playing in the Heineken Cup and the Premiership, plus the night we got promoted into the Premiership against Bristol.
"Also the support, especially in the home games at Sandy Park, has been fantastic throughout my time at the club and it's something I will always treasure."
Absolutely outstanding
Chiefs head coach Rob Baxter said: "If you think what he's achieved just this season, Simon played some good Premiership rugby, started some big games of Heineken Cup rugby, and he was absolutely outstanding away at Leinster.
"I think most people picked him out as the form hooker across Europe on that performance, he had half a dozen massive ball carries, some big tackles, and had a fantastic game.
"Of course it's very disappointing for him and very disappointing for the club because he's hit the top of his performances this season.
"But you've got a lot of life to live outside of rugby and, when you get medical advice, and the advice is to stop, it's the sensible thing to do."