Alex Sanderson: No love lost between Saracens and Northampton
Forwards coach Alex Sanderson admits there is no love lost between Saracens and Sunday's opponents Northampton.
Last Updated: 12/05/13 2:14pm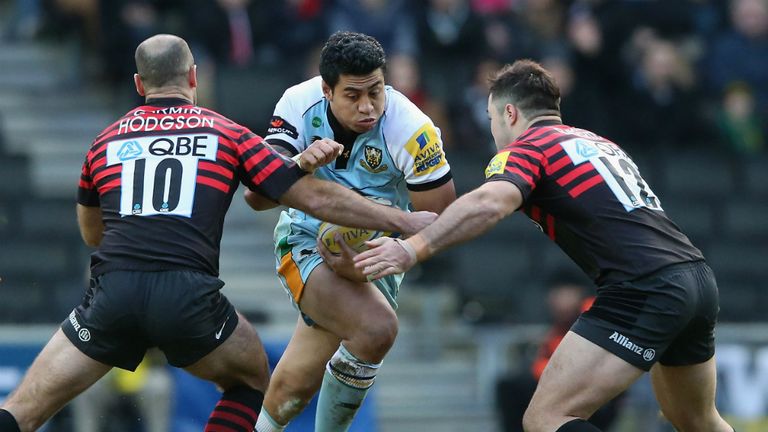 The two teams clash at Allianz Park for the right to play in the Aviva Premiership Grand Final.
And Sanderson admits that will be an extra edge to the match between two clubs who have been building up a simmering rivalry in recent years.
It stems from a match a few years ago when Northampton felt Saracens had deliberately left their changing room door open so Saints could hear their victory celebrations.
The row over Soane Tonga'uiha did not help - the prop decided to switch from Northampton to Saracens, only to change his mind and stay put, to the fury of the Barnet-based club.
And Sanderson said: "You do feel the extra niggle. It's got better because there used to be a bit of banter at half-time and arguments and shouting at each other between the coaches as well as the players.
"We were underdogs for a few years and it's a massive motivational factor in terms of your players.
"They don't like us anyway we know that and we've scorned them this season already so they'll be desperate to put one over on us.
"Certainly on the field there's no love lost there - I know what their players have said to our players in England camps - it's along the lines that they feel we're extra privileged, and we have everything we want and we're fed off silver spoons.
"That's not the case - we work unbelievably hard for every one of our performances but there's still a perception out there and that's a motivating factor for them."
The last time the two teams met, Saracens won 17-16 after Northampton's Stephen Myler missed a last-minute penalty which bounced back off the bar.
"For me in these games one scrum or one penalty can make a difference like it was when we played them at the MK Stadium when the ball bounced off the crossbar and, thankfully for us, bounced the wrong way for Northampton otherwise they would have won the game," said Sanderson.
"It can come down to the bounce of a ball or the gust of a wind."