Matt Stevens admits he does not regret his decision to call time on his England career last summer
Saracens prop Matt Stevens says he is thrilled to be back amongst rugby's elite.
Last Updated: 17/05/13 5:09am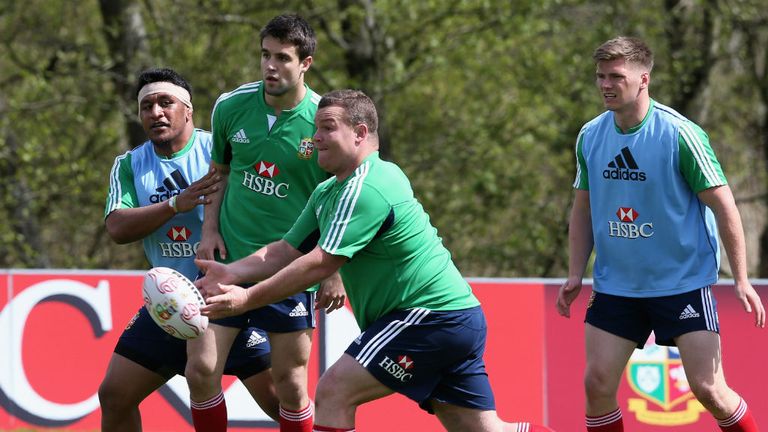 The 30-year-old, who opted to quit international duty last August, is the only player in Warren Gatland's 37-man British and Irish Lions squad not currently playing Test rugby.
But his impressive form in helping Saracens reach the semi-finals of the Heineken Cup and Aviva Premiership meant he was always on Gatland's radar.
While relishing the chance of a second Lions tour, having been part of the New Zealand trip in 2005, Stevens admits he does not regret his decision last summer.
"Any international player when they retire has second thoughts and it was the most difficult rugby decision I have ever made.
"But it was the right choice at the time, obviously it has given me the chance to play week in, week out for Saracens and has got me in contention for this trip.
"It has been difficult but I didn't retire because I didn't think I was good enough, I retired because there were other things I needed to sort out to get back playing for Saracens.
"I had just come back from injury and it wasn't fair on me playing a bit part for Stuart (Lancaster) when I thought I wasn't going to be there for the World Cup in 2015."
Differences
Stevens, whose previous Lions experience under Sir Clive Woodward saw the tourists suffer a 3-0 Test series defeat, has admitted he has seen some positive differences this time round.
"I think 2005 was a wonderful experience for me at the time as I was a young player coming into the team, it was a disappointing tour overall but I learnt a huge amount from it," he said.
"I know from playing with Saracens and with better and worse England teams that it is really important to be tightly knit as a unit, to be brothers in arms as it were, and that is something Gats is trying to work on with all of us.
"All the boys are open to building firm connections, I also think the fact there are less players will help, everyone will have to muck in."
Watch the every Lions game live and exclusive only on Sky Sports. To sign up or upgrade click here