Greene King IPA Championship: New season starts with three double-headers
London Welsh will begin their campaign to regain a place in the Aviva Prermiership with a clash against Bedford Blues.
Last Updated: 26/06/13 11:19am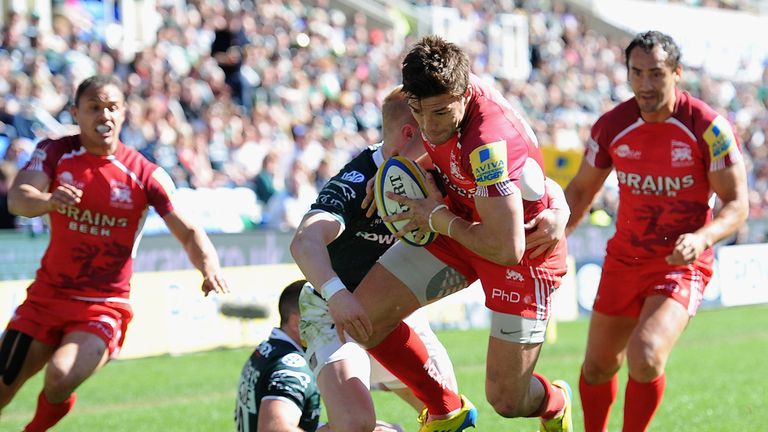 The Exiles were relegated from the top flight after just one season and are strongly tipped to bounce straight back in 2013-14.
Bedford lost in last season's play-off final to Newcastle Falcons, who returned to the Premiership as a result.
The new Greene King IPA Championship season begins with a series of double-headers, as London Scottish and Ealing Trailfinders join Welsh and Bedford at Allianz Park in Watford on opening weekend.
There are also double-headers at Castle Park and Sandy Park in Round One (September 13-15).
Round 1 - September 13/14/15 - Double Header
Allianz Park: Ealing Trailfinders v London Scottish, London Welsh v Bedford Blues
Castle Park: Moseley v Rotherham Titans, Nottingham Rugby v Leeds Carnegie
Sandy Park: Plymouth Albion v Jersey RFC , Cornish Pirates v Bristol Rugby
Round 2 - September 20/21/22
Jersey RFC v Bedford Blues
Bristol Rugby v London Scottish
Nottingham Rugby v London Welsh
Plymouth Albion v Moseley
Rotherham Titans v Ealing Trailfinders
Cornish Pirates v Leeds Carnegie
Round 3 - September 27/28/29
Jersey RFC v Bristol Rugby
Ealing Trailfinders v Cornish Pirates
Moseley v Rotherham Titans
London Welsh v Plymouth Albion
London Scottish v Nottingham Rugby
Bedford Blues v Leeds Carnegie
Round 4 - October 4/5/6Bristol Rugby v Bedford Blues
Nottingham Rugby v Jersey RFC
Plymouth Albion v London Scottish
Rotherham Titans v London Welsh
Cornish Pirates v Moseley
Leeds Carnegie v Ealing Trailfinders
Round 5 - October 25/26/27
Jersey RFC v Plymouth Albion
Bristol Rugby v Nottingham Rugby
Moseley v Leeds Carnegie
London Welsh v Cornish Pirates
London Scottish v Rotherham Titans
Bedford Blues v Ealing Trailfinders
Round 6 - November 1/2/3
Nottingham Rugby v Bedford Blues
Plymouth Albion v Bristol Rugby
Rotherham Titans v Jersey RFC
Cornish Pirates v London Scottish
Leeds Carnegie v London Welsh
Ealing Trailfinders v Moseley
Round 7 - November 8/9/10
Cornish Pirates v Bedford Blues
Leeds Carnegie v Rotherham Titans
Ealing Trailfinders v Plymouth Albion
Moseley v Nottingham Rugby
London Welsh v Bristol Rugby
London Scottish v Jersey RFC
Round 8 - November 15/16/17
Jersey RFC v Cornish Pirates
Bristol Rugby v Rotherham Titans
Nottingham Rugby v Plymouth Albion
London Welsh v Ealing Trailfinders
London Scottish v Leeds Carnegie
Bedford Blues v Moseley
Round 9 - November 22/23/24
Plymouth Albion v Bedford Blues
Rotherham Titans v Nottingham Rugby
Cornish Pirates v Bristol Rugby
Leeds Carnegie v Jersey RFC
Ealing Trailfinders v London Scottish
Moseley v London Welsh
Round 10 - November/December 29/30/1
Jersey RFC v Ealing Trailfinders
Bristol Rugby v Leeds Carnegie
Nottingham Rugby v Cornish Pirates
Plymouth Albion v Rotherham Titans
London Scottish v Moseley
Bedford Blues v London Welsh
Round 11 - December 20/21/22
Rotherham Titans v Bedford Blues
Cornish Pirates v Plymouth Albion
Leeds Carnegie v Nottingham Rugby
Ealing Trailfinders v Bristol Rugby
Moseley v Jersey RFC
London Welsh v London Scottish
Round 12 - January 3/4/5
Jersey RFC v London Welsh
Bristol Rugby v Moseley
Nottingham Rugby v Ealing Trailfinders
Plymouth Albion v Leeds Carnegie
Rotherham Titans v Cornish Pirates
Bedford Blues v London Scottish
Round 13 - January 24/25/26
Jersey RFC v Rotherham Titans
Bristol Rugby v Plymouth Albion
Moseley v Ealing Trailfinders
London Welsh v Leeds Carnegie
London Scottish v Cornish Pirates
Bedford Blues v Nottingham Rugby
Round 14 - January/February 31/1/2
Bristol Rugby v Jersey RFC
Nottingham Rugby v London Scottish
Plymouth Albion v London Welsh
Rotherham Titans v Moseley
Cornish Pirates v Ealing Trailfinders
Leeds Carnegie v Bedford Blues
Round 15 - February 7/8/9
Jersey RFC v Nottingham Rugby
Ealing Trailfinders v Leeds Carnegie
Moseley v Cornish Pirates
London Welsh v Rotherham Titans
London Scottish v Plymouth Albion
Bedford Blues v Bristol Rugby
Round 16 - February 14/15/16
Nottingham Rugby v Bristol Rugby
Plymouth Albion v Jersey RFC
Rotherham Titans v London Scottish
Cornish Pirates v London Welsh
Leeds Carnegie v Moseley
Ealing Trailfinders v Bedford Blues
Round 17 - February/March 28/1/2
Plymouth Albion v Nottingham Rugby
Rotherham Titans v Bristol Rugby
Cornish Pirates v Jersey RFC
Leeds Carnegie v London Scottish
Ealing Trailfinders v London Welsh
Moseley v Bedford Blues
Round 18 - March 7/8/9
Jersey RFC v Leeds Carnegie
Bristol Rugby v Cornish Pirates
Nottingham Rugby v Rotherham Titans
London Welsh v Moseley
London Scottish v Ealing Trailfinders
Bedford Blues v Plymouth Albion
Round 19 - March 21/22/23
Rotherham Titans v Plymouth Albion
Cornish Pirates v Nottingham Rugby
Leeds Carnegie v Bristol Rugby
Ealing Trailfinders v Jersey RFC
London Welsh v Bedford Blues
Moseley v London Scottish
Round 20 - March 28/29/30
Jersey RFC v Moseley
Bristol Rugby v Ealing Trailfinders
Nottingham Rugby v Leeds Carnegie
Plymouth Albion v Cornish Pirates
London Scottish v London Welsh
Bedford Blues v Rotherham Titans
Round 21 - April 4/5/6
Cornish Pirates v Rotherham Titans
Leeds Carnegie v Plymouth Albion
Ealing Trailfinders v Nottingham Rugby
Moseley v Bristol Rugby
London Welsh v Jersey RFC
London Scottish v Bedford Blues
Round 22 - April 18/19/20
Jersey RFC v London Scottish
Bristol Rugby v London Welsh
Nottingham Rugby v Moseley
Plymouth Albion v Ealing Trailfinders
Rotherham Titans v Leeds Carnegie
Bedford Blues v Cornish Pirates
Round 23 - April 25/26
Leeds Carnegie v Cornish Pirates
Ealing Trailfinders v Rotherham Titans
Moseley v Plymouth Albion
London Welsh v Nottingham Rugby
London Scottish v Bristol Rugby
Bedford Blues v Jersey RFC
Semi-finals -May 9/10/11th and May 16/17/18
Finals - Thursday May 29 and Wednesday June 4