Northampton captain Dylan Hartley vows to improve on-pitch behaviour
Dylan Hartley has insisted he does not need to consult a sports psychologist despite his catalogue of suspensions.
Last Updated: 29/08/13 10:19pm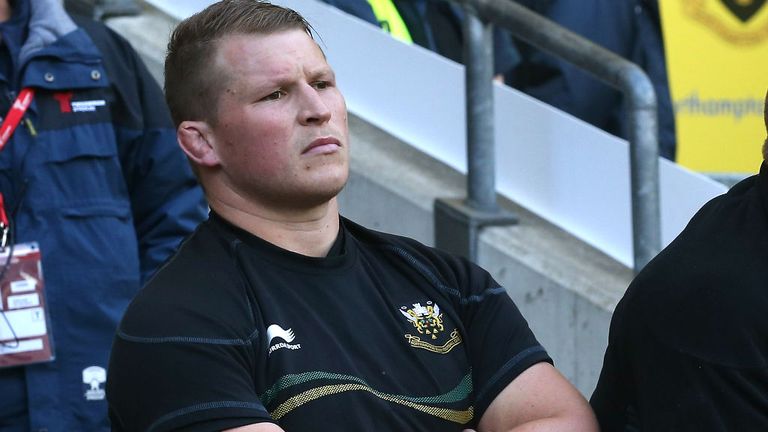 The Northampton skipper was handed an 11-week suspension following his sending off in last season's Aviva Premiership final defeat to Leicester after he launched an angry tirade at referee Wayne Barnes.
The 27-year-old previously incurred suspensions for biting, gouging and punching offences, and his red card at Twickenham cost him a place in the British and Irish Lions squad to tour Australia.
He has been given a final warning by frustrated England coach Stuart Lancaster, who included him in his latest elite player squad after Hartley claimed he had learned his lesson from his indiscretion in May.
"I don't need a sports psychologist, but my approach to dealing with referees has to change," said Hartley during the Aviva Premiership launch at Twickenham.
"I can understand how the incident was interpreted. I did say what I said, but I stand by what I said in that I know who I was talking to or about (Hartley claims his words were not directed at Barnes).
"I've heard much worse in the front row. In terms of how it was interpreted I have to look at that and understand how it got to that point.
"I sat down with Stuart and we had a chat. It wasn't about him telling me, but I understand that he can't keep giving me a chance. People can't keep giving me a chance and I'm basically on my last chance in the England set-up. That's fully understood."
Hartley also admitted he considered stepping down as Saints skipper, only to be talked out of it by supportive director of rugby Jim Mallinder.
"Jim and I talked, we had a few coffees. I was aware that from the outside people might want to see change in the captaincy," Hartley added. "Also with the new signings and management, I thought we should start afresh, but I didn't make the decision, it was made for me.
"I was open to stepping down but Jim talked me out of it and said we want you to do it, I back you, the board backs you and the lads back you."
Mallinder added: "It wasn't a decision that we jumped at or made immediately. There were lots of discussions with Dylan and other people and we all came to the same conclusion and that's that Dylan is the best player to lead our team.
"He's done it over the last four years, has experience of it. He's grown into the player he is. We've all made mistakes - Dylan has - but we all have to move on. I believe Dylan will be a better captain for what he's gone through. And a better player and person."