Jacques Burger forgives Nick Wood over Kingsholm stamp
Jacques Burger says he hopes Nick Wood is not banned for too long despite being stamped on by the Gloucester prop.
Last Updated: 18/09/13 9:13pm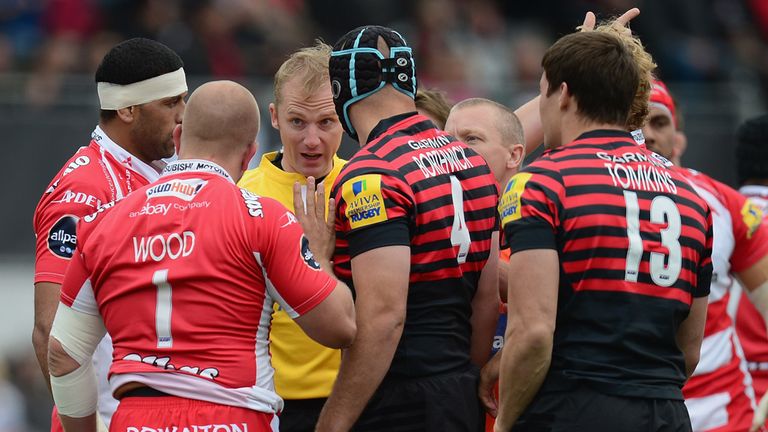 Wood was sent off 73 seconds into the match, the second fastest red card in Aviva Premiership history.
Wood will have a disciplinary hearing on Wednesday where he could face a long ban - up to nine weeks - for the offence.
Burger, whose team went on to win 44-12, told the Daily Mail: "He came up to me and felt very bad about what he did, there are no hard feelings.
"I wasn't upset at all, it was one of those things. You do it and straight away think 'why did I do that - that was so stupid'.
"My jaw's a bit sore but the cut on my head wasn't too bad. I think the stud cut it open a little but I didn't come off too badly.
"I don't know him very well but, from what I've heard, he's not a cheap-shot kind of guy. Unfortunately for him I think he's still going to have to deal with the citing commissioners but I hope he doesn't come off too hard."
Gloucester boss Nigel Davies said Wood's actions were totally out of character.
"Everyone knows Nick Wood, and he's never done anything like that before. It's not in his nature and that will have to be considered," he said.
"We've got to look at whether it was deliberate or accidental, and all that will play a part. There's no doubt it was a red card, and we have to wait and see what happens next.
"I don't think it would have been deliberate, but we need to look at the video and the evidence, and sometimes that will tell its own story.
"Nick is a great guy, a great pro in the club and a big personality. He's devastated, he's apologised to the team. I feel for him but the fact is that did have a big effect on the game.
"It was up to him to make that apology, and that's what he did. He spoke to all the players straight after the game in the changing rooms. It's difficult for Nick, he was in bits.
"I saw it on the big screen like everybody else, and it didn't look great. He's not a dirty player, he never has been. He's a good technician and a good rugby player.
"The red card I think was fair. Nick's apologised for what happened, and he's been big enough to do that."