Aviva Premiership: Leicester boss Richard Cockerill agrees new five-year contract
Leicester's director of rugby Richard Cockerill has agreed a new five-year contract.
Last Updated: 04/10/13 3:40pm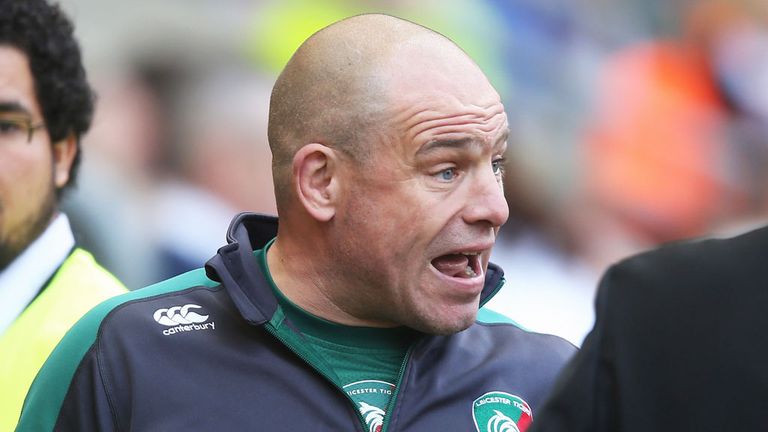 Cockerill was appointed to the role on a permanent basis during the 2008-09 season, becoming director of rugby in 2010.
He has led the Tigers to three Aviva Premiership titles and the LV=Cup, and has also reached five successive Premiership finals and a Heineken Cup final during his reign so far.
Tigers chairman Peter Tom said: "Richard Cockerill is a key part of the Leicester Tigers and we're delighted he has agreed terms on a new long-term contract.
"Cockers played for the club and is very much part of the Tigers family. He knows all about the Tigers culture and how to be successful here both as a player and a coach.
"Stability and continuity are extremely important in any successful organisation and, given the challenges of player availability, injury, selection, recruitment and the general ups and downs of professional sport, we see him as the man to continue to drive the team forward."
Cockerill made 262 appearances for Leicester after joining the club in 1992 and played 27 times for England.
He spent two years in France with Montferrand before joining the coaching staff, initially with the Academy.
"This club has been a huge part of my life for a long time now and it is a unique place in professional club rugby," Cockerill said.
"I am very passionate about the Tigers and in wanting to continue the club's success. We talk a lot with the players and staff about loyalty and commitment to the club, and that is something I feel strongly about too so I'm very happy to be able to agree a new contract here.
"Everyone here wants to be the best they can possibly be and we drive each other on. There is fantastic support for the team wherever we play, we have top-class players, a strong coaching team and very good backroom staff who all work very hard for the greater good of the club.
"This is a tough environment but it is one that brings out the best in its people."