Maggie Alphonsi back in England squad for Autumn internationals
Maggie Alphonsi returns to the England fold in the Autumn International Series next month after nearly two years out.
Last Updated: 15/10/13 2:41pm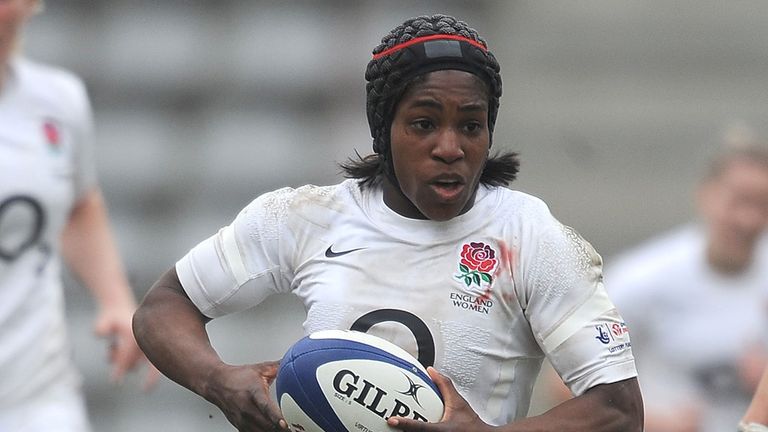 Alphonsi has been named in a 26-strong squad for the matches against France and Canada, a party that includes only one uncapped player - Bristol prop Sasha Acheson.
Along with Alphonsi, fellow flanker Hannah Gallagher returns after missing out since last season's Six Nations.
Danielle Waterman, Heather Fisher, Laura Keates, Alexandra Matthews, Francesca Matthews, Georgina Gulliver, Sally Tuson and Joanne McGilchrist were not considered because of injury but coach Gary Street is delighted with his squad.
Street said: "This is an exciting squad and the absolute strongest squad I had available which is so important as we focus on this World Cup season.
"We have got some good preparation time ahead of these fixtures which will stand us in good stead and I know by the time we play France the players and management team will be eager to kick off our international season with a bang.
Delighted
"I am delighted to be able to welcome Sasha into the squad. She has had a great start to this season and has been one of the stand out props in the Premiership.
"She has worked extremely hard to come through the RFU Divisional Programme as well, and that is great testament to her and the staff involved in developing our future talent.
"It is also exciting to welcome back our flanker partnership of Maggie Alphonsi and Hannah Gallagher. To welcome back a player of Maggie's experience is always a tremendous boost and with Hannah's return it just adds to the quality of our back row line-up."
Squad: Acheson (Bristol), Allan (Richmond), Alphonsi (Saracens), Braund (Lichfield), Burford (Thurrock), Burnfield (Richmond), Clark (Worcester), Croker (Richmond), Essex (Richmond), Fleetwood (Lichfield), Gallagher (Saracens), Hemming (Bristol), Hunt (Lichfield), Hunter (Lichfield), Large (Worcester), Laybourn (Darlington Mowden Park Sharks), Mason (Wasps), McLean (Darlington Mowden Park Sharks), Merchant (Worcester), Packer (Wasps), Purdy (Wasps), Reed (Bristol), Scarratt (Lichfield), Staniford (Wasps), Taylor (Darlington Mowden Park Sharks), Wilson (Bristol).