Mike Phillips is to take on Bayonne through the courts following his sacking
Wales scrum-half Mike Phillips is to take legal action after his contract was terminated by French club Bayonne.
Last Updated: 28/10/13 8:46pm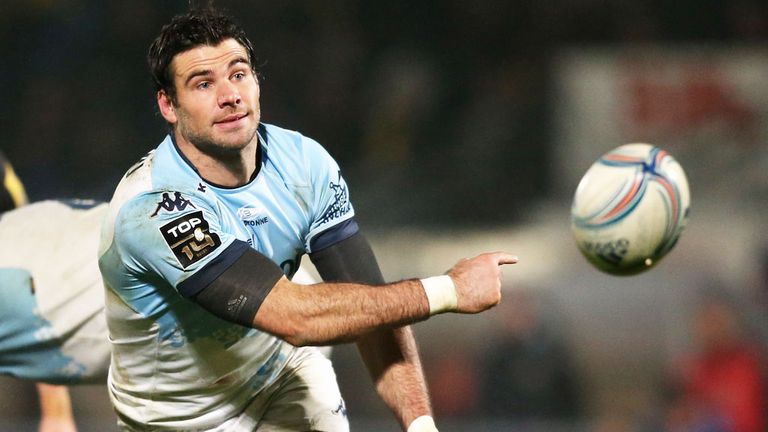 The 31-year-old, who started for the Lions in both of their Test wins in Australia this summer, allegedly arrived drunk for a video analysis session on 11 October.
Bayonne are yet to officially confirm his sacking but their chairman Alain Afflelou told French newspaper Sud Ouest on Monday morning: "It was him or me. I could not have stayed in a club with such disagreement.
"From the moment he let us down, his friends, coaches and fans, it was not possible to keep him.
"I had already kept him on a year ago against everyone's advice. This summer, I even invited him to my house to offer him a contract extension of two years.
"I trusted him, this is treason. What he did is inexcusable, and it's not the first time."
Sacking angers Phillips
Phillips has reacted by releasing a statement which read: "I am extremely disappointed and frustrated by the decision taken by Aviron Bayonnais Rugby Club to terminate my employment.
"I was also disappointed by the fact that I officially heard about my dismissal through an interview given in a French newspaper this morning.
"As a result of discussions with my legal team in France, I have now instructed them to issue proceedings against Aviron Bayonnais Rugby Club through the French judicial system."
Regarding Phillips' chances of compensation, Afflelou told Sud Ouest: "The procedure will tell.
"We'll let the lawyers do their work but, at this moment, I do not think so. He is a repeat offender and has been laid off for misconduct."
Phillips was accused of being intoxicated when the squad met on the morning after an Amlin Challenge Cup win over Grenoble.
His team mates Dwayne Haare and Stephen Brett also faced the club's board last Tuesday over their involvement in the same incident.
However, while Phillips sat out Friday's win over Montpellier, Brett started and Haare was on the bench.
Phillips ready
Phillips, who has joined the Wales squad ahead of their autumn international programme, was in the last year of his contract with Bayonne.
He joined the club in 2011 and was given a fine and a 10-day suspension for an off-field incident last season.
His statement added: "I wish to thank my team mates and the many friends I have made in the Basque Country for their help and kindness over the past two seasons.
"I will now wholeheartedly concentrate all my energy and efforts on training with Wales and try to earn a place in the match day squad to help Wales have a successful autumn campaign against South Africa, Australia, Argentina and Tonga."