QBE Internationals: Tom Wood backs skipper Chris Robsahw
Tom Wood has promised skipper Chris Robshaw his full support ahead of the opening autumn international with Australia.
Last Updated: 02/11/13 2:08pm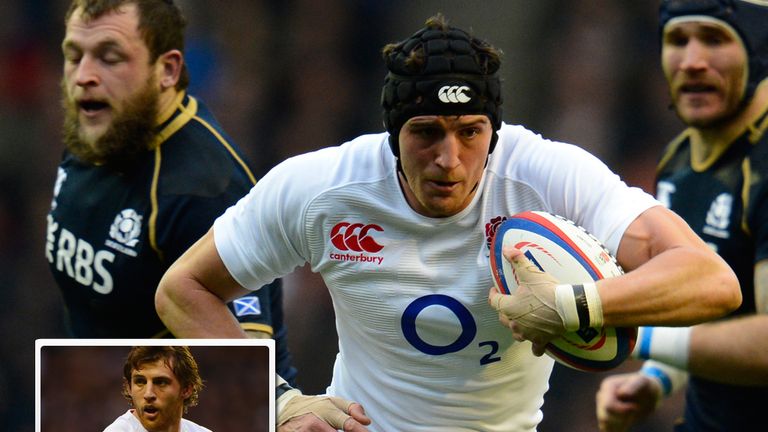 Wood and Robshaw were the two leading candidates to be named England captain, and coach Stuart Lancaster opted for the latter.
Robshaw skippered England last season but was rested for the summer tour of South America, and Wood did a fine job standing in.
Lancaster kept them both waiting before confirming that Harlequins star Robshaw as his skipper again for the autumn matches, starting with Australia on Saturday.
Wood said: "I actually made a point of being in touch with Chris while it was all going on just to say 'let's not get caught up in this for one second.
"I said to him 'you know you've got my full support if you are named captain and I'll assume the same. Or anybody else'.
"As he has been named captain I am going to be the best lieutenant I can and make sure that I'm alongside him doing what I tried to do last autumn and during the Six Nations - working as hard as I can, setting a good example and making sure I've got Chris' back.
"I've got an England shirt on my back at the weekend and that is all I am worried about."
Wood says England have got to be a more physical and aggressive side if they want to develop into genuine World Cup contenders.
Wood said: "It's all about intensity and if you've got it, you've got it. That's what we need every week as a pre-requisite.
"We don't have to ask for it. We don't have to have a bad performance. We don't have to have a kicking from the coaches or be dragged through the mud by the press before we have a reaction and say 'yeah, we're up for it'.
"We have to set our own standards. This is England and this is what we are about. You don't come here and take your foot off the gas. England is your club level plus 20 per cent and more.
"There is an expectation here that you don't walk in defence. You don't amble to rucks. You hit them with everything you've got and then you get up and look for the next one. That is what our expectation of each other has got to be.
"We have got to demand that of each other. The new guys have to realise that. Otherwise you lose.
"If you want to hit a ruck as hard as you can, you will hit a ruck as hard as you can if you are there fully charged up before the game, ready to go. Hitting a ruck is not a science. You put your head where it hurts and do it as hard and fast as you can and that is the end of it.
"Test his will. It's your will against his. If he's up for it more than you, if he's braver than you, he's going to get the better of you. It doesn't matter how big and strong he is. That's what breakdown is about for me.
"Collectively, you saw across the board in the New Zealand game there was a level of intensity with people looking for rucks to hit.
"You see Tom Youngs going in horizontal and smoking bricks backwards. Everybody was doing that from one to 15."
Watch England take on Australia this Saturday. Coverage starts on Sky 3D and Sky Sports 2 HD from 1:30pm.