New Zealand coach Steve Hansen salutes Dan Carter ahead of his 100th cap
New Zealand head coach Steve Hansen has led the tributes to Dan Carter as the fly-half prepares to win his 100th cap.
Last Updated: 15/11/13 5:43am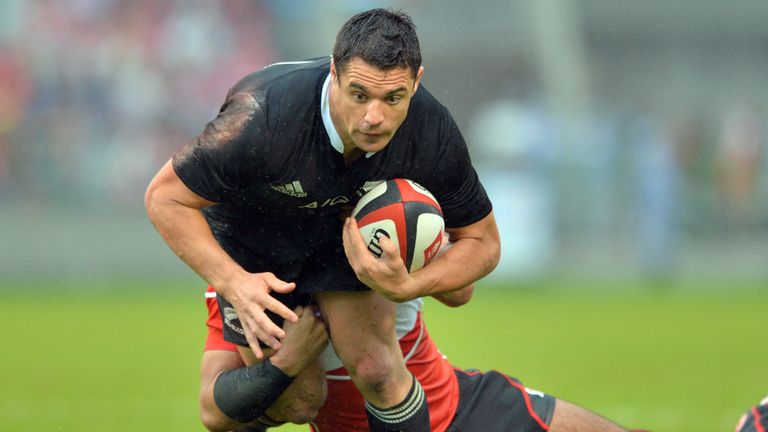 The 31-year-old will become the fifth All Black player to bring up a century of appearances when the world champions face England at Twickenham on Saturday
"It is massive," Hansen said of Carter's achievement. "Any All Back to be able to sustain a career long enough to play 100 games is a special player but he is probably one of the special, special ones.
"He has been pretty frustrated over the last 18 months with injury but he seems to be on top of that at the moment and he is deserving of the honour."
Carter made his debut in 2003 against a Wales team then coached by Hansen, and the fly-half notched 20 points in a comfortable victory in Hamilton.
"The very first he played was pretty sharp," said Hansen. "I happened to be coaching the opposition, he scored 20 points.
"He had his first Test and played very, very well but probably his best game was the second Test against the Lions in 2005 - that stands out.
"I thought his game against France in the World Cup in 2011 was outstanding, it looked like he was going have a great impact on that tournament until he got injured."
Focused
Carter has not been available to be interviewed by British media, but he spoke to the New Zealand press about his landmark and insisted he is trying to treat the game as any other.
"At times you do think about the special occasion," he told stuff.co.nz. "But I'm just trying to put it all to the side and concentrate on what I have to do for the team and keep the usual structures in place going in to a Test match.
"After the game I hope I can enjoy it and embrace it a bit more. I'm really working hard on not getting caught up in all the hype."
England pulled off a shock victory over the All Blacks at Twickenham last December, but Hansen insists there is no thought of revenge this weekend.
"There are a lot of people who have banded the word 'revenge' around but it is one of the silliest words you can use in rugby," he said.
"It is too strong a word, revenge is quite a hateful word. What it is in an opportunity to see if we have improved, to see if we are good enough to beat England.
"We weren't last year, they were first, daylight was second and we were third - I would rather see this as an opportunity rather than the word revenge.
"What we are trying to do is strive to be better than we are, which is number one. If you don't look to improve yourself you are going to go backwards so, for us, our whole aim as a group of players, coaches and management is to be better than we were the week before.
"We are looking for perfect, there is no such thing as a perfect performance but that is what we strive to do."
Watch England take on the All Blacks live on Sky Sports 1 and Sky 3D, coverage starts at 1.30pm