Grieg Laidlaw says Scotland have improved in 2013 despite seven defeats
Greig Laidlaw insists Scotland have improved under Scott Johnson, despite seven defeats in 11 matches in 2013.
Last Updated: 25/11/13 3:43pm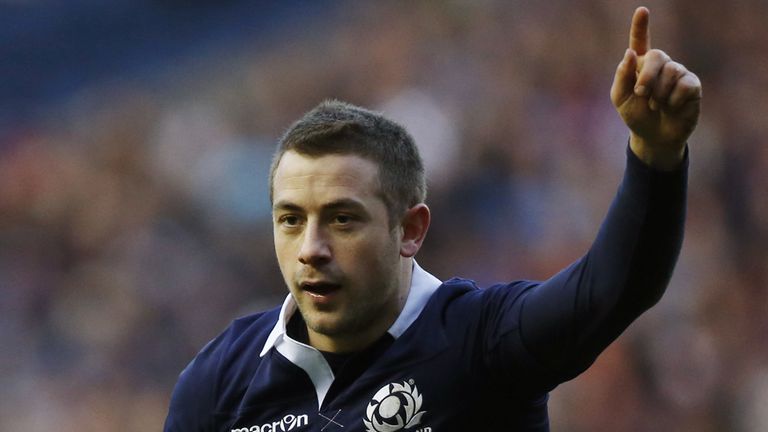 The Australian replaced Andy Robinson 12 months ago after the Englishman resigned following the shock defeat by Tonga in Aberdeen.
Johnson guided them to third place in the Six Nations but defeats to South Africa and Australia meant they finished the year on a low.
Johnson will step down next summer and Laidlaw believes his successor Vern Cotter will inherit a much-improved team.
Laidlaw said: "We are where we are. Results don't lie. But I do think we have come a long way. I'm a big fan of Johnno. He's a good coach, a very good coach. Everyone has benefited from playing under him.
"We have definitely made progress but international rugby is won on fine margins.
"The games we have won we haven't won by much, and the games we have lost - on the whole - have been close as well.
"We have to learn quickly but the Six Nations isn't far off.
Potential
"We finished third last year and there is the potential to do the same, if not better, this time. In the past, Scotland have failed to maintain results over a long period, so that is what we need to aim for in future."
The Scots were stunned by the Springboks as they lost 28-0 the weekend before last, but showed more
Laidlaw, who kicked all 15 points in the 21-15 defeat to the Wallabies, said: "I'm gutted after the game on Saturday to be honest. It was a close game and it was there for the taking.
"To beat Australia for the third time in a row would have been a huge scalp and I'm just disappointed we never did it.
"We were brave but that was always going to be the case. The bravery of this squad has never been in question for me, so it was no surprise we bounced back well after the South Africa match.
"There were times during that game where we played well and that was the same against the Wallabies.
"We had a couple of opportunities but we just didn't take them. If we had, I think we would have won the game.
"We had one opportunity with Sean Lamont in the first half when he came up just short of the line. If we had taken that, things might have been different."