Nigel Davies concerned by exodus of top players from Welsh domestic rugby
Nigel Davies has accused Welsh rugby of "shocking apathy" towards the mass exodus of the country's top players.
Last Updated: 06/12/13 11:54am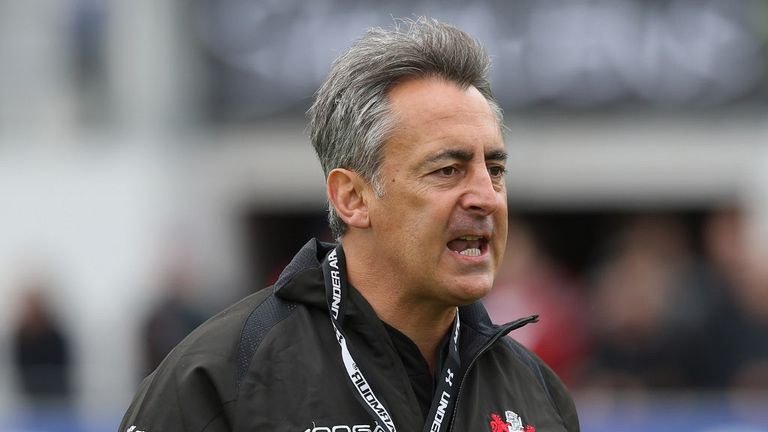 Several Wales internationals have been lured to clubs in the Aviva Premiership and Top 14 in France, and Gloucester boss Davies believes the situation in the regions is a huge concern.
Premiership Rugby is considering inviting the Welsh regions to join an Anglo-Welsh domestic league, an idea that Davies believes has "a lot of merit".
But the former Llanelli and Wales centre fears the Welsh Rugby Union would reject the proposals, leaving Regional Rugby Wales - the umbrella organisation for Ospreys, Scarlets, Dragons and Blues - to go it alone.
Davies admitted the possibility of the regions leaving the RaboDirect Pro12 would have a "significantly detrimental" effect on Welsh rugby, while Irish and Scottish sides would also face an uncertain future.
"I'm very concerned about the situation in Wales," said Davies, who lured Wales scrum-half Tavis Knoyle to Kingsholm from Scarlets last summer and is expected to sign Ospreys' hooker Richard Hibbard.
"All these star names are leaving Wales. It leaves a void, in terms then of filling that, you get to develop players. That's always been the success of the regional game, that they develop players very quickly and very well.
Apathy
"But at this moment in time there's a distinct lack of star names in the regions, and those are the players that actually attract people to the game.
"And young rugby players growing up in the region, and supporters too, they need stars, they need people they can look up to. And that makes them want to be part of it.
"Wales are losing that because they haven't got that type of player there. That's a worry for me, not in the short term but certainly in the medium to long term.
"The apathy within the game in Wales to do anything about it is shocking, it's absolutely shocking. I would have thought that the powers-that-be will be looking at it (a move to the Premiership) for obvious reasons.
"The fact that in Wales the regions are bleeding players, and there seems to be no help to support them there financially, or any other way, then you would question, and you would have to look at what their options are.
"As regions, they're not getting any support from within. Take the Welsh regions out of the Celtic League and that causes a whole host of problems.
"But in terms of coming into an English system, or an Anglo-Welsh system, I think it's got a lot of merit. Commercially there are a lot of opportunities.
"It would work from the supporters' point of view whereas the Celtic League doesn't, certainly for away supporters."
Davies believes the only way to stop long-term damage to the Welsh game would be for the WRU to step in and broker a potential cross-border competition with the English clubs.
He added: "If it were done through the Welsh Rugby Union, possibly there would not be such damage. But would such a thing happen through them? Probably not.
"So you're probably looking at some sort of breakaway which would have a significantly detrimental effect on the game in Wales."