Heineken Cup: Tom Wood apologises to Northampton supporters after Leinster defeat
Northampton flanker Tom Wood has apologised to the club's supporters following the 40-7 defeat to Leinster.
Last Updated: 08/12/13 11:22pm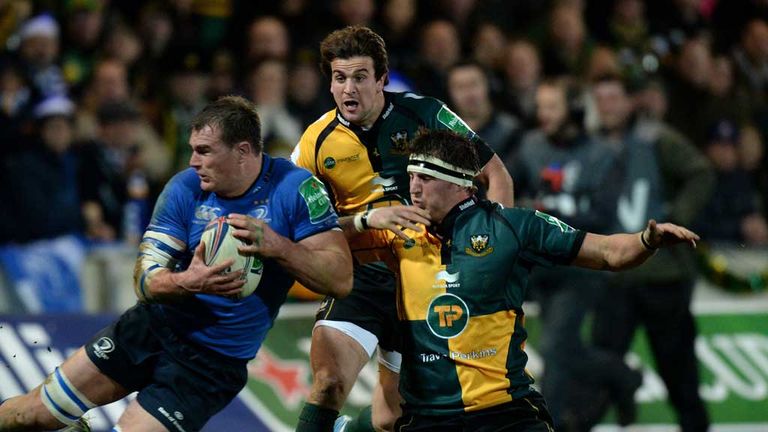 Leinster scored six tries in a dominant display as they opened up a five-point lead at the summit of Pool One, leaving Saints down in third place.
"There was no hairdryer treatment after the match because we're all pretty ashamed," said England international Wood.
"To have fans call you an embarrassment as you leave the field is about as bad as it gets.
"All we try to do is make the fans proud but we can't be proud of what we did out there and we can't expect them to be. We can only apologise for that.
"I'm ashamed and embarrassed and collectively the team are too. It went wrong everywhere. We were like an unopposed team for much of the game.
"Leinster have a great track record and a great European pedigree, but they're not 33 points better than us. We just didn't turn up, I don't know what's wrong with us.
"It should never have got to that stage because these are the occasions you live for in rugby.
Unforgiveable
"It's one thing to lose to a better side, but to lose having not even played a hand is soul-destroying. It was unforgivable.
"It felt like they had twice as many players as us and you didn't know what hole to plug first.
"That's probably the longest 80 minutes I've ever played and I'm ashamed to say it but I couldn't wait for the final whistle."
Northampton now travel to Dublin for the second instalment of the double-header next Saturday and they require a bonus-point victory to have any chance of winning the pool which also includes Castres and Ospreys.
"We've been given yet another hard lesson. We have to front up, take a long hard look at ourselves and show Leinster the real Northampton next weekend because that was unrecognisable out there," Wood said.
"We'd like to salvage some pride, that's not beyond us. There may be some complacency from them after they destroyed us at home.
"Hopefully we can put in a performance we'll be proud of. It's a dire situation because we had a real chance."