Warren Gatland has gentleman's agreement to coach British and Irish Lions
Warren Gatland has a gentleman's agreement to coach the British and Irish Lions again if offered the role in 2017.
Last Updated: 16/12/13 6:20pm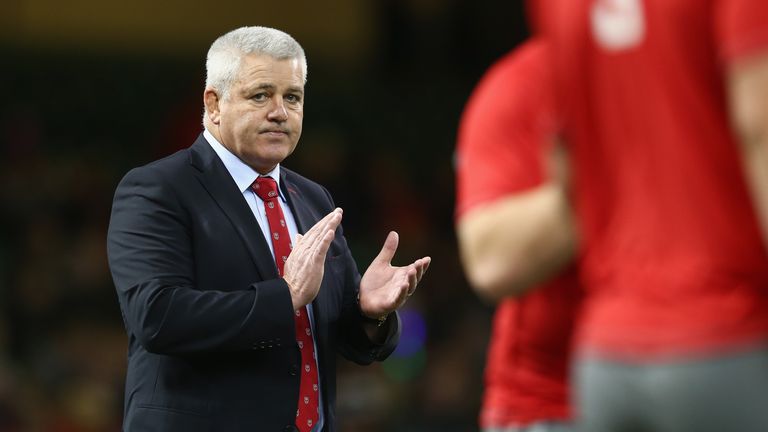 Wales head coach Gatland signed a new six-year contract, committing his long-term future to the WRU until after the 2019 World Cup in Japan.
The 50-year-old is already Wales' longest-serving coach, but this new deal will extend his tenure to 12 years.
Former Ireland and Wasps coach Gatland said there is no clause written into his new contract that allows a sabbatical to coach the Lions.
But the series-winning 2013 Lions coach said WRU chief executive Lewis had pledged to do "everything he can" to help Gatland lead the best of British in his native New Zealand in 2017.
Gatland handed the Wales reins to Robert Howley for the 2012 season, as he prepared for the Lions' 2013 tour to Australia.
And it looks likely the former Waikato hooker would do exactly the same in 2016 if offered the roll.
Kiwi Gatland said: "The contract this time is exactly the same as what I had last time.
"And I've spoken to Roger Lewis. If I had the opportunity to be involved again, that's going to be because of Wales being successful in the next couple of years.
"If my whole focus and contemplation is on Wales then if Wales are successful then you put yourself in the frame.
"Then after that it's potentially maybe the Lions approaching you, then it's negotiating release with the WRU.
"And that's exactly what happened in 2012 before the Lions this year.
"So nothing's changed with regard to that, and Roger's said to me even though there's not a release in my contract he will do everything he can to help support me, and to hopefully make it happen if I did happen to get offered that position again.
"But it's not something that I'm contemplating at the moment or thinking about, my whole focus is on Wales doing well.
"If Wales do well then potentially other opportunities open up."
Stimulating
Keen to be involved in a third Lions tour, his second in charge after Australia, Gatland said coaching Britain and Ireland's top stars has a reciprocal benefit for his Wales job.
He said: "You're involved with other people, people come from different environments and it's always about the sharing of ideas.
"That's what's special about the Lions, and the chance to work with the top players in the Northern Hemisphere.
"It's incredibly stimulating for coaches and players, and everyone involved.
"And that's what you want to have a chance for, to be able to challenge yourself to be involved at the highest level.
"I've been very fortunate to have been involved in the last two tours, as assistant and then as head coach.
"So it is a stimulus that you look forward to, but you get a huge amount out of as well."