Ireland's Paul O'Connell unconcerned by illness
Paul O'Connell is confident he can play through any lingering effects of his chest infection when he makes his return.
Last Updated: 06/02/14 3:46pm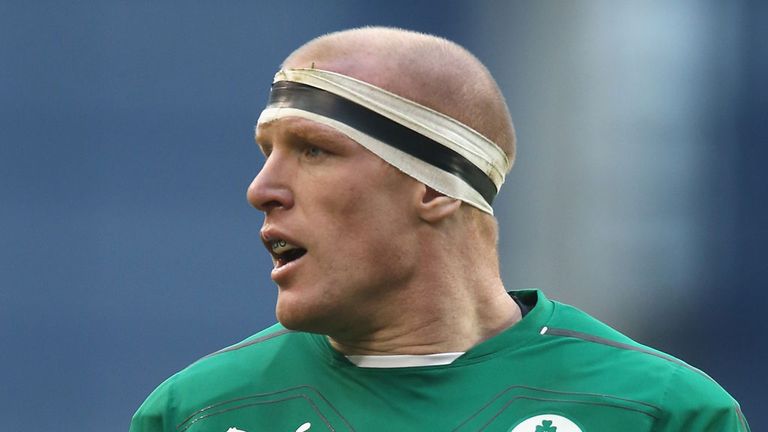 The 34-year-old Munster lock withdrew from his country's opening game of the Six Nations - last weekend's 28-6 win over Scotland - but made a full return to training on Thursday.
O'Connell has completed a course of antibiotics and has been named in the side for this weekend's clash in Dublin.
He admits he has received some good-natured mocking from his team-mates but is just glad to be back.
"It's a bit embarrassing really," he said. "I've copped plenty of slagging from the old-school players I've played with for years.
"I've just finished a course of antibiotics; I've played matches on them before, so I don't struggle with it at all. You almost wish you'd had something worse than a chest infection.
"I'm experienced enough to know how to handle things like this, I've dealt with similar things before.
"I broke ribs against England, and had to withdraw late the next week from a game against Italy.
"It was very frustrating and very disappointing then, and the same last weekend.
"I've worked hard to get into a position where I could play in the Six Nations, so to miss out on the first game was frustrating and disappointing.
"But I think you have to have respect for your team-mates as well, particularly the second-row, Dan Tuohy has been playing great this season, and Iain Henderson had been in camp all week.
"And I really didn't think it would affect the team in a big way, and I thought I might write myself off for this week if I did play."
Last weekend, Wales struggles against Italy before emerging victorious 23-15 in Cardiff.
The Italians subdued the Welsh scrum but with Gethin Jenkins returning to their side, O'Connell expects them to improve.
"The scrum is just a very difficult thing to predict from week to week," said O'Connell.
"I know ourselves we had a poor day against Australia in the autumn. We struggled to deal with them.
"Italy have an excellent scrum and also Wales have made a change there in bringing in Gethin Jenkins, who is a very experienced player and a very experienced scrummager.
"I know it's an area where we can do well though, and we just want to play off quality ball for the backs from our scrum."