Six Nations: Joe Schmidt sees no reason why Ireland cannot challenge
Joe Schmidt says Ireland's win over Wales is building confidence and raising hopes of a Six Nations title challenge.
Last Updated: 09/02/14 8:29am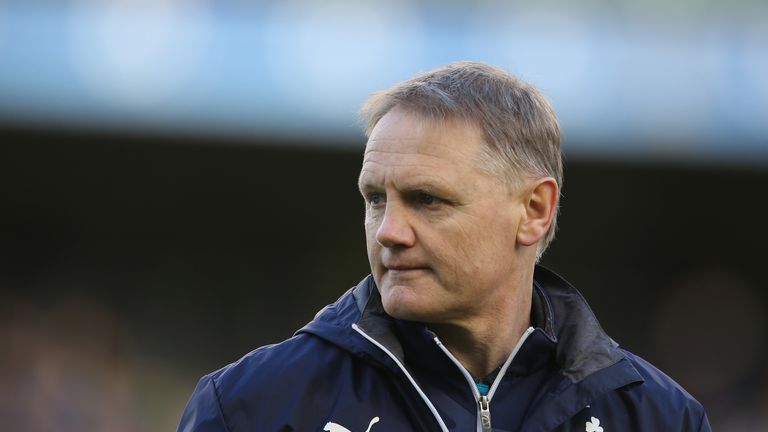 Schmidt's ferocious Ireland bested Wales at the breakdown, scrum and line-out, with peerless Munster flanker Peter O'Mahony eclipsing natural scavenger Sam Warburton.
Former schoolteacher Schmidt says his troops cannot target the title outright just yet, but conceded his side will go to England on February 22 brimming with confidence.
"I'm not going to think too far ahead," said Schmidt. "But it's certainly a gathering of confidence for us. The big, powerful team Wales brought today were always going to be tough opponents.
"They never quite got into the game really, they were perhaps not entirely match-fit some of them so in that respect I would suggest we were fortunate in some areas, and definitely benefited from that.
"We'll get together again after a couple of days, review what we've done, take stock and work out how we can keep getting better. Then we'll plot some sort of course forward going to Twickenham.
"That's a massive game for us now; I think they were very unlucky against France and are an extremely powerful side."
Improvement needed
Wales must forego all thoughts of a record-breaking third consecutive Six Nations title after one of the worst defeats in Warren Gatland's coaching tenure, the Kiwi coach has admitted.
"It's tough for us but I think it's one step at a time: and the first step is to improve on what we've done here," said Gatland.
"We won't be thinking in terms of retaining the Six Nations, we'll be thinking about improving for our next game against France."
Admitting Wales could have been caught out by Ireland's dogged and direct game-plan, Gatland lambasted his side for conceding 17 penalties.
"Possibly there was surprise, I think it was effective," said Gatland of Ireland's brutal approach. "I can't remember any occasion when they moved the ball through the backline to go at us.
"They dominated us up front and caused us a lot of problems. It's just going back and having a look at those penalties we've given away, where we can improve.
"We have a target of 10 or less, so to give 17 away from our point of view was simply unacceptable."