Six Nations: Tommy Seymour insists Scotland better than results suggest
Tommy Seymour insists Scotland are a better side than their first two performances in the Six Nations suggest.
Last Updated: 09/02/14 2:34pm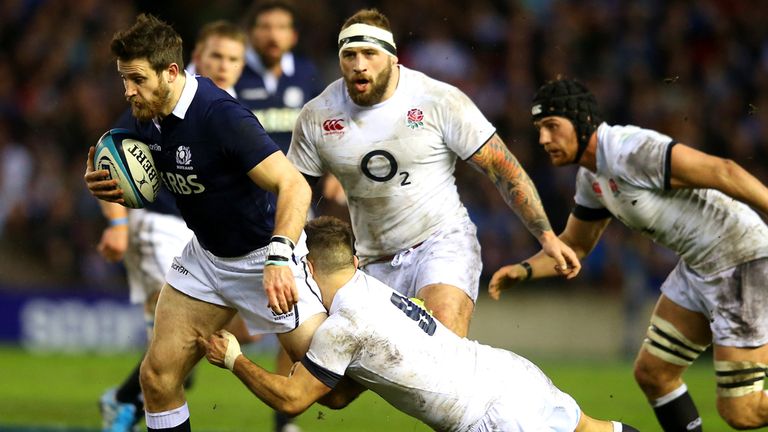 The Scots lost 28-6 in Ireland, and 20-0 at home to England - but the Glasgow wing insists six points from two games is not a fair reflection of their performances or attacking abilities.
And Seymour - who was making his Championships bow against the Auld Enemy - says there is much more to come.
"To have come off the park having not put a single point on the board is hugely disappointing because we're a better side than that.
"But we need to start putting performances in that show that. We have quality players in this side that can win matches but we need to show people that.
"These first two matches of the Six Nations are not a true reflection of this squad at all.
"In parts we have shown what we are capable of. Some of the attack in Ireland and some of the defence against England were good. But it's about combining both those parts together.
Hungry
"But the good thing is that this group of players are pretty harsh on themselves and they know that wasn't good enough. They are hungry for more."
Scotland coach Scott Johnson admitted the only positive for his side was that they did not concede more points, given England's total domination of possession and territory.
"Johnno told us that England were in our 22 about 20 times," Seymour said. "So there is a lot of praise to be given to the defence in that sense.
"I don't have that much work to do on that side because of my position but I know some of the guys in the pack and the centres who had a hell of a lot of work to do. They were tremendous.
"It's just a shame we weren't able to flip that around and combine it with some great attacking play.
Seymour admits that whilst the game was forgettable for the Scots, he will treasure some of his memories of his Six Nations debut.
"Running out on the pitch before the game was a really humbling experience. The atmosphere was fantastic and the fans were amazing," he said.
"Even the bus journey here with the fans lining the streets was great. I couldn't have asked for a better lead up to my first Calcutta Cup game.
"But the margin of the defeat is sore. It maybe hurts a little but more than it does normally because it was England and because it was a chance to get back on the road in the Six Nations."