Stuart Lancaster: Sam Burgess faces race against time to make World Cup squad
Stuart Lancaster admits Sam Burgess faces a tough task in switching codes in time for the 2015 World Cup.
Last Updated: 18/02/14 5:00pm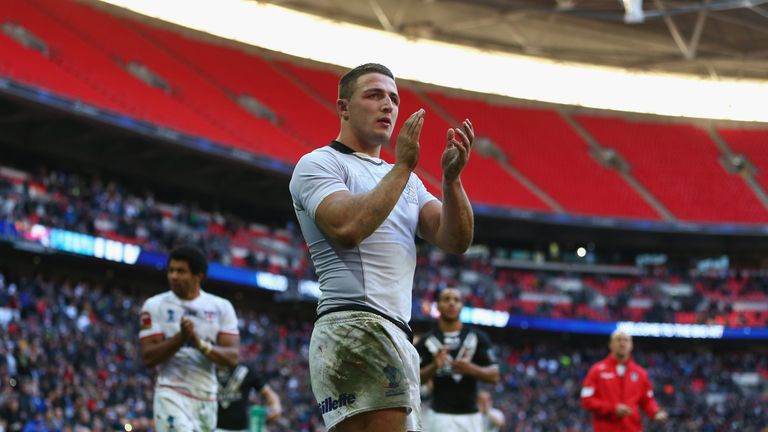 Burgess, who has signed a three-year deal with Bath, will see out the NRL season with the South Sydney Rabbitohs before being released from his contract with the Australian club in October.
However Lancaster is pleased to see Burgess agree to cross codes.
"It's great news for rugby union," Lancaster told Sky Sports.
"He's a world-class rugby league player and credit to Bath for having the courage to sign him. He's got a massive learning curve ahead of him - time is short for the World Cup but he's a special player so we'll see how he goes."
Lancaster expects Burgess to battle for a place in the England midfield, but says he has a lot of good centres to usurp if he is going to break into the international side.
"It's going to be tough - to arrive in November and learn the game, play the game and also earn the right to play on merit ahead of the players we've got," said Lancaster.
Competitive
"It's a competitive position and while he's a good player, there's a lot of intricacies to learn.
"In my experience it is easier to make that transition as a back. There are less of the complexities of the forward play to learn - scrums and line-outs and everything that goes with it.
"I think he's got the ball skills and pace to play in the back line - and the physicality - and if you put him alongside some of the other players we've got, he'd be exciting. You have to give him every chance.
"Sonny Bill Williams is probably the best example of making the transition. He was a forward in league and a back in union and he made the transition gradually.
"It's going to be fast-track for Sam but if there's one player who you'd think has a good chance of doing it, it would probably be him."