England wing Jack Nowell tips fireworks in Wales clash
England wing Jack Nowell has highlighted the special rivalry with Wales ahead of Sunday's colossal clash.
Last Updated: 05/03/14 5:17am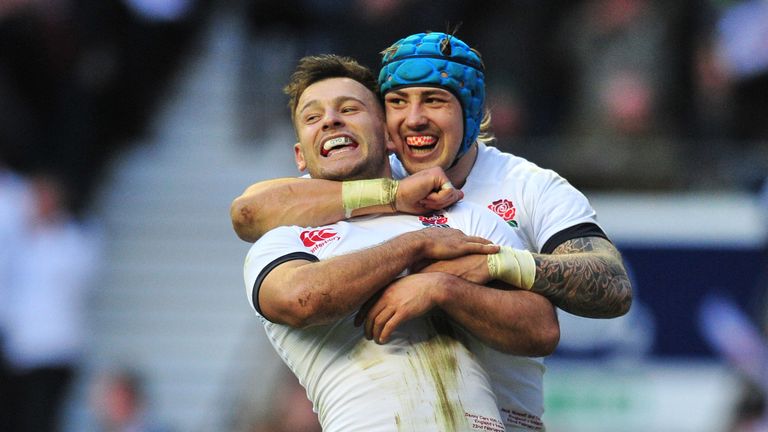 The 20-year-old is hoping to face the Wales senior side for the first time having been part of the England U20 that defeated their Welsh counterparts 23-15 in last summer's junior World Cup final.
The Exeter starlet said: "I loved winning that tournament. We fell behind in the first half and a few things didn't go well for us, but obviously it was nice to come back in the end and get the win.
"We're going out to play against a team that hate you and want to do anything to beat you up or beat you in the game."
England scrum-half Danny Care added of Warren Gatland's reigning champions: "There is obviously a huge history between the two countries and we have had some great battles against Wales.
Challenge
"You know when you play Wales that they don't like you, which you get used to as an England player. You relish that and look forward to the challenge.
"Any time you play for England it's a great feeling, but with the Welsh you know they are coming for a battle. We are up for the challenge and looking forward to it."
To combat the anti-English sentiment that drives opponents in the Six Nations, head coach Stuart Lancaster has actively sought to increase the sense of pride in wearing the Red Rose jersey.
"You hear a lot about how proud Ireland, Wales and Scotland are and we kind of get forgotten. I think we are an unbelievably proud country," Care said.
"Obviously Stuart has done a lot of stuff to reconnect everyone with grassroots rugby and see the heritage side of things, the lads who have played before us in the shirt and gave their lives in the war.
"We have gone on that journey, looked at stuff like that and seen how much it means to people still.
"We are playing for them and playing for the whole country. We are incredibly proud of putting on the England shirt and running out at Twickenham."
One man who is certain to relish the physicality is England full-back Mike Brown, who exchanged heated words with Brian O'Driscoll during the 13-10 victory over Ireland.
Brown said: "As long as it's not affecting the team in a negative way, or costing the team points or a penalty, then the coaches are fine with the way I play rugby."